Cruz Booed Off Stage by Trump Backers as Party Unity Is Elusive
By
Trump shrugs off lack of endorsement by former primary rival

Cruz's wife ushered out of arena to chants of 'Goldman Sachs'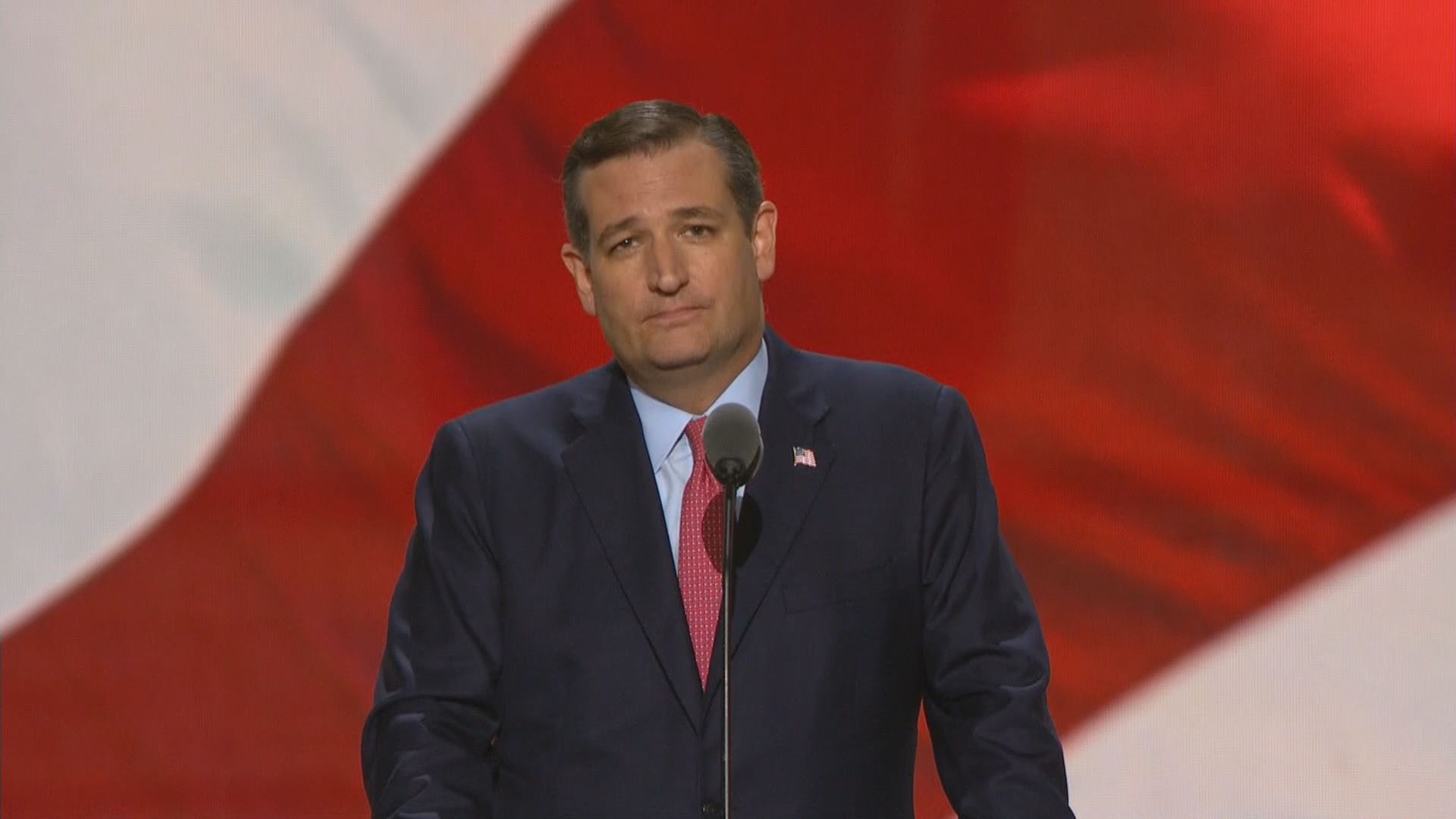 Ted Cruz was booed off the stage Wednesday night at the Republican convention after he failed to directly endorse Donald Trump, the man who dubbed him "Lyin' Ted."
The mood was angry enough that Heidi Cruz, Cruz's wife, was hurriedly ushered out of the arena, with some Trump supporters chanting "Goldman Sachs" at her. She formerly held a senior job at the securities firm.
But Trump tried to brush off the incident quickly, tweeting shortly before midnight, "Wow, Ted Cruz got booed off the stage, didn't honor the pledge! I saw his speech two hours early but let him speak anyway. No big deal!"
The dramatic scene overshadowed the introduction of Indiana Governor Mike Pence as Trump's running mate and once again derailed Republicans' efforts to unify the party and get their convention back on track after a series of missteps.
Cruz congratulated Trump in his prime-time speech for securing the nomination, but that was the only time the Texas senator mentioned his name and, as his speech neared its end, pointedly ignored calls from convention delegates to explicitly back the nominee. 
As Cruz was finishing, the crowd began chanting, "Trump, Trump, Trump," and "Say his name," trying to encourage him to formally endorse the nominee.
Cruz merely replied, "I appreciate the enthusiasm of the New York delegation," Trump's home state, and then continued with his prepared remarks.
Even some Cruz supporters were incensed that he ignored the crowd's demand for an endorsement. 
"That was uncalled for," said Nate Leupp, a South Carolina Trump delegate who had committed to Cruz if there was a second ballot.
'Big Middle Finger'
Shaun Ireland, a Texas delegate for Trump, called it "a big middle finger to this entire convention."
"He's a son of a bitch. He failed the party. He disqualified himself from running for president ever again," said Representative Peter King, a New York Republican. "I will do everything I can to make sure he never runs again."
As Cruz was leaving stage to loud and sustained boos, Trump appeared in the hall to listen to a speech by his son, Eric. Trump left the hall as soon as his son finished his speech, but returned briefly to appear with Pence.
Former House Speaker Newt Gingrich, a staunch Trump supporter, tried to do some quick damage control on Cruz's speech during his own address.
The teleprompter when Gingrich began speaking indicated that he and the campaign expected Cruz to endorse Trump, with the following sentence clearly visible in the hall: "Senator Ted Cruz in particular made the key point that we need to elect the Trump-Pence Republican ticket." Gingrich didn't deliver those words, but ad-libbed briefly before picking up the speech as written.
"Ted Cruz said you could vote your conscience for anyone who would uphold the Constitution," he said. "In this election, there is only one candidate who would uphold the Constitution. So, to paraphrase Ted Cruz, if you want to protect the Constitution of the United States," the only ticket is Trump-Pence.
After Cruz's speech, New Jersey Governor Chris Christie said he would advise Trump to "ignore it and move on." He said Cruz is more focused on a possible 2020 presidential run than a Republican White House win this November.
"The performance you saw up there is why Ted has so richly deserved the reputation he's developed on Capitol Hill," Christie said.
Pence's Moment
Pence, despite being overshadowed by the Cruz drama, won plaudits from delegates inside the hall for his speech.
Pence offered a combination of soothing biography, self-deprecating humor and firm testimonial to Trump's leadership and ideas that was enthusiastically received by delegates. He pledged to uphold family values and conservative policy priorities and touted his record as governor of Indiana in cutting public sector jobs while reducing unemployment.
"You have nominated a man for president who never quits, who never backs down," Pence said of Trump. "We'll win because we're running on the issues facing this country and because we're leveling with the American people about the stakes and the choice."
It was the type of speech that would have validated Trump's stated confidence that his running-mate pick would deliver party unity, had Cruz not stolen the show in dramatic fashion.
'Don't Stay Home'
Cruz strategist Jason Johnson said the Texas senator told the billionaire two days earlier that he wouldn't be endorsing him, and indeed Cruz delivered his speech almost exactly as prepared.
His speech contained strong attacks on Hillary Clinton and made nods to party unity, but Cruz appeared to be keeping a firm eye on a 2020 race.
"To those listening, please, don't stay home in November," Cruz said. "If you love your country and love your children as much as I know you do, stand, and speak, and vote your conscience, vote for candidates up and down the ticket who you trust to defend our freedom and to be faithful to the Constitution."
It's unclear whether Cruz did any lasting damage to his own standing in the Republican Party.
Robin Armstrong, an RNC committeeman from Texas, said his delegation didn't boo, but they were disappointed.
"We still love him, but we would've liked him to come on board the Trump campaign," Armstrong said.
Rubio Endorses
Unlike Cruz, Florida Senator Marco Rubio, another Trump primary opponent, endorsed the nominee by name in a video address, saying, "The time for fighting each other is over."
Rubio, who traded name-calling and insults with Trump in the closing days of his campaign, praised his stances on taxes and security and made a clear call for Republicans to unite to defeat Hillary Clinton.
"It's time to come together," said Rubio, who is running for Senate re-election. His address lasted 83 seconds.
Cruz's message did sync up with some of Trump's appeal as an outsider who would shake up Washington.
"Voters are overwhelmingly rejecting the political establishment and overwhelmingly saying no to big government. That is a profound victory," he said. "People are fed up with politicians who don't listen to them, fed up with a corrupt system that benefits the elites, instead of working men and women."
He also backed some of Trump's signature policies, including his call for a border wall with Mexico and his attacks on free-trade deals.
Selma Sierra, 58, a delegate from Draper, Utah, who was a Cruz supporter, said that unless Trump does anything "outrageous," she plans to vote for the billionaire. 
"I don't know what Mr. Trump's plan is if he gets elected," she said. "But I hope he does what he can to unify the party across the spectrum. What happened this week did not convince me."
Trump's Plane
At an event earlier Wednesday, Cruz sounded very much like a man who hasn't given up his dream of eventually reaching the Oval Office -- and his supporters certainly aren't all sold on the Trump train.
"Our party now has a nominee," he told a group of supporters at an outdoor rally as Trump's jet simultaneously flew by overhead, prompting extended boos from the crowd.
Cruz didn't actually say the words "Donald Trump," but he alluded to the infamous nickname Trump gave him, describing the moment his campaign was coming into an end.
"I wasn't gonna let those SOBs turn Lyin' Ted into Cryin' Ted," the Texas Republican said.
'Con Artist'
Rubio, meanwhile, once the party establishment's great hope before Trump clobbered him in his home state of Florida, has had a balancing act of his own in backing the man he ridiculed as a "con artist."
Rubio recently flip-flopped on his early plan not to run for Senate reelection, giving him an excuse to stay in his home state rather than fly to Cleveland to take the stage.
Walker's Pivot
Another former Trump primary foe, Governor Scott Walker of Wisconsin, backed Trump explicitly Wednesday night.
"Let me be clear: A vote for anyone other than Donald Trump in November is a vote for Hillary Clinton," Walker said. "Make no mistake: We can't wait four years to get 'em next time."
The missing man remains John Kasich, the Ohio governor who has been visible at the periphery of the convention but has refused to participate in it or endorse the party's nominee.
Before it's here, it's on the Bloomberg Terminal.
LEARN MORE