Five Things You Need to Know to Start Your Day
Get caught up on what's moving markets.
by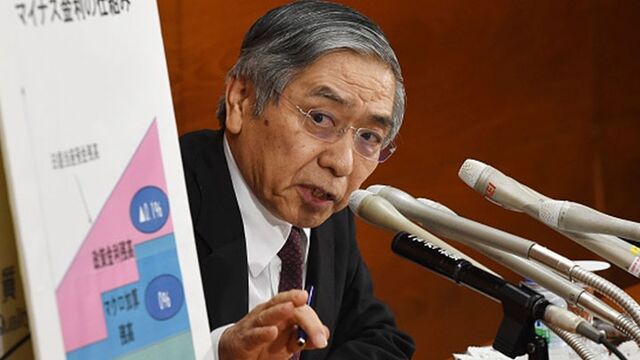 Want to receive this post in your inbox every morning? Sign up here.
It's decision day at the ECB, there's a state of emergency in Turkey, and Kuroda says no to helicopter money. Here are some of the things people in markets are talking about today.
ECB decision
At 7:45 a.m ET this morning the European Central Bank will announce its latest monetary policy decision, followed by President Mario Draghi's press-conference 45 minutes later. While no economist surveyed by Bloomberg expects a rate change today, Draghi's comments will be closely watched for hints of stimulus to come after the next round of ECB economic forecasts in September, and as the effects of the Brexit referendum grow clearer. With the pool of government bonds that are eligible for purchase under the central bank's buying scheme shrinking as yields fall, there may be tweaks to the rules governing that operation. The euro was relatively stable at $1.1027 at 5:45 a.m. ET. 
Kuroda says no
Bank of Japan Governor Haruhiko Kuroda said that there was no need and no possibility of so-called helicopter money in a BBC radio interview broadcast this morning, causing the yen to jump the most in almost a month against the dollar. The broadcast comes as concerns within the central bank over the sustainability of the current massive monetary stimulus are said to be growing, but has also caused some confusion following reports that the interview with Kuroda had actually been conducted in June. Former BOJ official, Mitsuru Iwamura, now a Waseda University professor, has gone as far as suggesting plans on how the bank should exit stimulus. The yen had strengthened 1.4 percent to 105.68 to the dollar by 6:00 a.m. ET.
State of emergency in Turkey
A state of emergency has gone into effect in Turkey following a decision taken at a meeting of the National Security Council. That announcement, coupled with yesterday's decision by S&P Global Ratings to cut the country's sovereign rating, led to the lira falling to a record low against the U.S. dollar and has put the Borsa Istanbul 100 Index on track for its worst week since November 2008. 
Markets slip
The MSCI Asia Pacific Index gained 0.5 percent overnight, with markets there closing before Kuroda's comments on helicopter money boosted the yen. In Europe, the Stoxx 600 Index was 0.3 percent lower at 6:06 a.m. ET, having fallen as much as 0.6 percent in the immediate aftermath of the broadcasting of Kuroda's radio interview. S&P 500 futures were down 0.1 percent. 
UK retail sales fall, recession warning
U.K. retail sales dropped 0.9 percent in June, more than economist expectations for a 0.6 percent fall, and the biggest drop in six months. While most of the data in the report covered the period before the referendum, the U.K. Office for National Statistics said it had not received evidence of a Brexit effect. Results of a Bloomberg survey show that economists now predict the U.K. may be heading for its first recession since 2009. The pound, which dropped when the retail sales data was released, recovered to trade at $1.3205 by 6:30 a.m. ET. Stay up to speed on all the Brexit developments by subscribing to our new newsletter, the Brexit Bulletin. 
What we've been reading 
This is what's caught our eye over the last 24 hours.
Before it's here, it's on the Bloomberg Terminal.
LEARN MORE