Exxon Secures a Foothold in the 'Big Kahuna' of the LNG World
by and
Exxon agreed to buy InterOil for as much as $3.6 billion

Adds Papua New Guinea discoveries to feed gas export terminal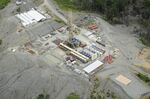 Exxon Mobil Corp.'s takeover of South Pacific natural gas driller InterOil Corp. expands the company's presence in a market where demand for the fuel is set to grow for at least another quarter century.
Despite a worldwide glut of liquefied gas that crushed prices from South Korea to Spain, Exxon struck a deal to pay as much as $3.6 billion in stock and cash for InterOil, the explorer that discovered the vast Elk-Antelope gas field in the mountains of Papua New Guinea. It's Exxon's biggest acquisition since a 2009-2013 buying spree that saw the world's biggest energy producer splurge on multiple North American gas drillers, including the $35 billion buyout of XTO Energy.
Exxon plans to funnel InterOil's gas through its existing $19 billion LNG complex on the Papuan coast for export to manufacturers, chemical producers and power generators in East Asia and beyond. The oil giant is looking past the current glut to its own internal projections that show global demand for gas growing at an average of 1.6 percent annually through at least 2040. Most of that increase will occur in Asia, according to Exxon.

Northeast Asia "is still the big kahuna in the LNG market, and it's a solid, stable market," said Zach Allen, president of Pan Eurasian Enterprises Inc., a Raleigh, North Carolina-based tracker of liquefied natural gas shipments. "The Japanese in particular have a preference for stability and safety of supply, and they'll pay for that."
Related: Exxon to Buy Gas Explorer InterOil for Up to $3.6 Billion
Exxon agreed to pay between $45 and $71.87 in stock and cash for each share of InterOil, depending on how much gas is socked away in the Elk-Antelope field, the Irving, Texas-based company said in a statement on Thursday. Exxon also agreed to pay a $60 million breakup fee on behalf of InterOil, which backed out of an earlier deal to sell itself to Oil Search Ltd. and Total SA for $2.2 billion.
Exxon's acquisition comes as new export terminals from the Indian Ocean to the U.S. Gulf of Mexico add supply. Asian demand growth that boosted prices for the past decade has cooled while global liquefaction capacity is expected to jump by 45 percent by the end of 2020, according to Energy Aspects Ltd.
Supplies from Papua New Guinea will vie with cargoes of gas pumped from U.S. shale reservoirs. More than half of the LNG leaving U.S. shores over the next three years is contracted by Asian buyers, according to Bloomberg New Energy Finance.
Internal Forecast
Despite the near-term bearish signals, Exxon's internal forecast released in January shows worldwide gas demand growing more than twice as fast as crude oil through 2040. By then, the Asia-Pacific region will get 40 percent of its gas from other parts of the world, overtaking Europe as the biggest importer of all forms of the fuel, according to Exxon.
"Through 2040, most of the world's oil and gas exports will likely be headed to the Asia Pacific region, where demand for energy is expected to grow far faster than local production," Exxon said in its 2016 report.
The deal announced on Thursday commits Exxon to paying a base price of $45 of its own stock for each InterOil share. Additionally, for every trillion cubic feet of gas reserves above 6.2 tcf that Elk-Antelope holds, Exxon will pay a cash bonus to InterOil holders. The cash portion, known as a contingency resource payment, will be capped at 10 tcf and $26.87 a share.
Exxon said it plans to process the gas from the Elk-Antelope field and load it onto ships at its coastal PNG LNG complex, which began exporting gas in 2014. Exxon's statement made no mention of InterOil's original plan to build a separate LNG facility known as Papua LNG from scratch.
Before it's here, it's on the Bloomberg Terminal.
LEARN MORE