Draghi's Sopping Up Whatever Liquidity Was in European Credit
by
Bond trading costs rise to highest in more than three years

More stimulus possible if Brexit undermines European growth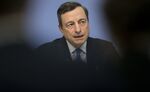 Mario Draghi's buying spree in Europe's corporate bond market may be making it cheaper for borrowers. But for the people who trade the debt it's becoming a lot more expensive.
The cost of trading the debt is higher than at any time since April 2013, according to a gauge of the difficulty traders have in buying and selling investment-grade notes in the single currency. Investors pay an average 6,200 euros ($6,841) for every 1 million euros of the securities traded, up from about 4,600 euros a year ago, the data from fixed-income trading platform MarketAxess Holdings Inc. show.  
The European Central Bank has accumulated more than 10.4 billion euros of company bonds in the past six weeks under its asset purchase program that's designed to stimulate the region's economy. ECB President Draghi signaled on Thursday that policy makers will consider adding more stimulus if Britain's vote to leave the European Union threatens growth.
"The ECB is sucking a decent portion of bonds out of the market on a daily basis," said Paul Suter, a London-based fixed-income trader at ECM Asset Management, part of Wells Fargo Asset Management, which oversees more than $480 billion. "Liquidity was already challenging, but this buying program is now the massive gorilla in the room and has exacerbated the situation."

The difference between the average price at which investors buy and sell investment-grade company bonds in euros has widened to 0.62 percentage points, according to data from MarketAxess's post-trade reporting service, Trax, which says it processes approximately 65 percent of all fixed-income transactions in Europe. The wider the gap, the more expensive it is trade.
For junk-rated securities it's about 13,000 euros for every million traded, 32 percent more than a year earlier, the data show.
Even before the ECB became the biggest buyer in the region, transactions had become more expensive because post-financial crisis regulations prompted banks to shrink their holdings and to cut staff. Making matters worse, just as dealers pulled back, the size of the market swelled. There are more than 950 billion euros of notes outstanding from non-financial companies, up from about 520 billion euros a decade ago, according to ECB data.
"Investors' demands for trading are continuing to rise as the universe of securities grows, but dealers have less capacity to make markets," said David Krein, head of research at MarketAxess. "They're under regulatory pressure to manage their balance sheets and they're having to raise their costs."
ECB Lending
The ECB is seeking to soften the impact of its purchase program on the market by starting to lend out its corporate bond holdings this week. Some investors aren't convinced it will work.
"It will have a small positive impact on liquidity but it won't be enough to mitigate the effects of their continued buying," said Gordon Shannon, a London-based money manager at TwentyFour Asset Management, which oversees 6.4 billion pounds ($8.4 billion) of assets. "It doesn't really matter if some bonds can be lent back. The key is that there aren't enough attractive yield opportunities for long-term investors."
The central bank made 96 percent of its purchases in the secondary market in June, according to a statement from the bank, because companies didn't sell enough debt. Sales dropped 62 percent in June to 19 billion euros from the previous month, according to data compiled by Bloomberg. In July, issuance totaled 12.5 billion euros as the Brexit vote weighs on investor sentiment.
Sales slumped even as ECB purchases helped push the average yield on investment-grade euro notes to a record-low 0.75 percent on Wednesday, according to Bank of America Merrill Lynch index data. Deutsche Bahn AG this month became the first non-financial company to sell negative-yielding bonds in euros.
"There is a marked reluctance from investors to sell and replace bonds," said Bill Blain, a strategist at brokerage Mint Partners in London. "They perceive a shortage of assets to replace them with. Their bonds might have rallied and they can lock in that gain by selling, but whether they'll find securities that offer an equally attractive coupon is doubtful."
Before it's here, it's on the Bloomberg Terminal.
LEARN MORE