Draghi May Flag Action Ahead for ECB Under Brexit's Shadow
By and
Rates expected to be left unchanged at 1:45 p.m. in Frankfurt

President will likely address fallout from U.K. referendum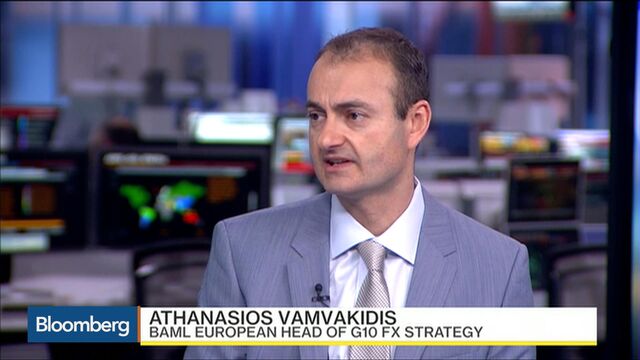 Mario Draghi may have longed, just once, to have a quiet monetary-policy meeting before the summer break. Never mind.
Britain's vote four weeks ago to leave the European Union will loom large when the European Central Bank president addresses reporters in Frankfurt on Thursday, after a meeting of the Governing Council. While action isn't seen as likely straight away, he might signal more stimulus to be deployed when fresh economic forecasts are available at the next decision in September.
Draghi has predicted that euro-area growth will slow as a result of Brexit, suggesting a response is needed. Yet a major concern is how much further he can go with a stimulus package that already includes a 1.7 trillion-euro ($1.9 trillion) asset-buying program increasingly constrained by ultra-low debt yields.
"The U.K.'s vote to leave the EU can mean a lot for the ECB," said Holger Sandte, chief European analyst at Nordea Markets in Copenhagen. "A deterioration of the economic outlook could warrant more easing at some point but, more immediately, the decline in bond yields makes the current purchasing targets impossible to achieve."

After the Bank of England kept policy unchanged last week and signaled a willingness to act in August, investors are betting the ECB will also wait. The euro was little changed at $1.1018 at 12:39 p.m. Frankfurt time.
Market measures point to an interest-rate cut after the summer. That would mean the Governing Council keeps the main refinancing rate unchanged at zero and the deposit rate at minus 0.4 percent on Thursday. The decision will be announced at 1:45 p.m Frankfurt time and Draghi will hold his press conference 45 minutes later.
Economists surveyed by Bloomberg see the asset-purchase program staying at 80 billion euros a month for now, with the greatest chance of extra stimulus coming at the Sept. 8 meeting. They predict an extension of quantitative easing beyond March 2017 as the instrument of choice.
A problem for policy makers is that although they've gone out of their way to spur credit expansion, the pick-up in lending remains timid.

Likewise, while inflation ticked up 0.1 percent in June after two months below zero, it's still far away from the ECB's goal of just-under 2 percent. Neither the central bank nor investors believe it's going to get there anytime soon.

If the ECB decides to extend asset purchases beyond March, the most pressing problem might be a shortage of government bonds. Under its own rules, the central bank can only buy debt with a yield at or above the deposit rate.
The issue could come to a head as soon as August, according to analysts from UBS Group AG and SEB AB. Yields on German bonds collapsed as investors sought their safety following the U.K. vote, making many of them ineligible for QE. That matters, because ECB guidelines also require the allocation of bond purchases to be roughly in line with the size of each country's economy -- meaning Germany should account for about a quarter of the total program.

Finally, a word of warning for central bankers tempted to surprise markets with shock easing: It can backfire. According to a study published by Goldman Sachs Group Inc. this week, unexpected easing by the ECB prompts other economists to revise their growth outlook down rather than up.
Taking the unexpected easing as a signal that the central bank, with its superior access to information, sees further risks ahead, analysts have become particularly responsive to surprises since the 2008 financial crisis. The Goldman study by Jonathon Hazell and Lasse Holboell Nielsen found that every 10 basis points of unexpected interest-rate cuts prompted private-sector economists to slash their growth forecast by an average of 25 basis points.

Sign up to receive the Brexit Bulletin, a daily briefing on the biggest news related to Britain's departure from the EU.