business
Corbyn Urges U.K. Labour Party to Unite If He Remains Leader
By and
Corbyn launches leadership defense saying party is stronger

Labour leader expected to see off Challenge from Owen Smith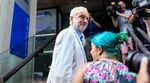 Jeremy Corbyn appealed to Labour members of Parliament to unite behind him if he's re-elected leader of Britain's main opposition party.
"It's the job, it's the duty, it's the responsibility of every Labour MP to get behind the party at that point and put it there against the Tories about the different, fairer, kinder Britain that we can build together," Corbyn told reporters in London on Thursday as he launched his bid to see off a challenge from former shadow-cabinet member Owen Smith.
Corbyn lost a no-confidence ballot among Labour lawmakers last month and has seen more than 60 of his front-bench team resign since the vote to leave the European Union, with many saying his ineffective campaigning against Brexit showed he lacks the qualities needed to be a prime minister. He nevertheless remains popular with many of the rank-and-file party members who ultimately elect the leader and is the favorite with bookmakers to win the leadership contest, the result of which will be announced on Sept. 24.
Defending his record, Corbyn said the party was "stronger" under his leadership and had "delivered some very concrete results for millions of people by our opposition in Parliament." Smith, Labour's former work and pensions spokesman, said in a Guardian newspaper interview Wednesday that Corbyn was "not up to the job" of challenging Theresa May's Conservative Party.
A YouGov poll of voting intentions published July 18, the first since May became prime minister, showed Labour 11 points behind the Conservatives. Labour had a 3-point lead in April. Bookmaker Ladbrokes Plc has Corbyn as the 1/5 favorite to win the leadership contest, meaning a successful five-pound bet would yield a one-pound profit, while Smith is on 7/2.
Before it's here, it's on the Bloomberg Terminal.
LEARN MORE