Condos and Industry Battle It Out in Vancouver's Red-Hot Real Estate Boom
There's no room on the waterfront.
By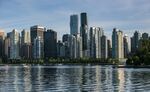 Vancouver is one of North America's hottest real estate markets—a city of million-dollar teardowns that's become notoriously unaffordable for the young and the middle class. And potential homebuyers aren't the only ones feeling the squeeze.
The Port of Vancouver, Canada's biggest, is being hemmed in as property is snapped up for housing, offices, and even movie sets. The regional port authority estimates the region may run out of industrial land within 10 years. This could push some of the port's $200 billion in trade to rival gateways if related businesses "can't get a site or can't do it in an economic way," says Peter Xotta, vice president for planning and operations for the authority.
If the region can't carve out enough nearby warehouse space for businesses using the port, its economy could turn into a "lifestyle bubble" for wealthy retirees and tourists, argues a report prepared for the port authority by the strategy consultants Monitor Deloitte. The nation's gateway to Asia handles almost 1 out of every 5 dollars of Canadian trade and is North America's most diversified port in terms of cargo, which includes exports of lumber, wheat, and oil. Its container traffic is expected to almost double over the next 15 years.
The port, unlike rivals such as Long Beach, south of Los Angeles, has facilities in the center of town, jostling for space with condos, the central business district, and tourist attractions. In search of room, it plans to head 22 miles south to expand an already existing artificial island to build an additional C$2 billion ($1.5 billion) terminal. But a new terminal also needs to be serviced by warehouses and distribution centers on land with good access to water, rail lines, and roads if the port and regional economy are to remain competitive, Xotta says.
Such sites are increasingly rare and out of reach as developers seek to rezone them for more lucrative residential or commercial uses. The price of a home in Vancouver has more than doubled in a decade, while office complexes have sold at record prices.

And everyone wants to be near the water. Site Economics, a real estate consulting company in Vancouver, says waterfront industrial sites are particularly vulnerable to crowding out. Look no farther than Coal Harbour, once the terminus of Canada's first transcontinental railway. Gleaming high-rises gaze out across the water to the North Shore Mountains beyond. In an area where shipyards and Boeing's first seaplane factory once stood, a three-bedroom apartment lists for almost C$13 million.
Aspac Developments, founded by Hong Kong's wealthy Kwok family, helped kick-start that development. Now it's turned its sights to a 27-acre patch near the airport, where it's building luxury residences that will have panoramic views of the Gulf Islands and downtown skyline. Similar redevelopment projects have transformed stretches along the Fraser River.

Local governments in greater Vancouver face a dilemma because industrial use tends to generate less tax revenue than housing, says Linda Hepner, the mayor of Surrey, B.C., which lost more vacant industrial land than any other municipality in the metro area from 2010 to 2015. "We are the last bastion of large tracts of available industrial land," she says. For Surrey, that's a chance to attract jobs, Hepner says, so it continues to encourage industrial development.
The port's predicament reflects Vancouver's transformation from a 19th century mining and lumber town into a mecca for tech startups, animation design, and media. The growing film and television production industry has been signing some of the largest leases. At the same time, businesses are looking for more acreage.
"The trend is toward larger buildings," says Sean Ungemach, a vice president in Vancouver for the real estate company Cushman & Wakefield. A decade ago, he says, businesses were typically looking for no more than 200,000 square feet of space. Today, Cushman is increasingly getting requests for 400,000 to 500,000 sq. ft. Although the rise of online retailers has led to shrinking store footprints, logistics-savvy companies are building sprawling distribution centers.
Amazon.com, for example, has several North American facilities with 1 million sq. ft. Not a single site that large exists in Vancouver, says commercial brokerage Avison Young in Toronto. So far, Amazon says it has the space it needs in the area—it opened a new 580,000-sq.-ft. site last year. "We knew what was realistic for the region and are pleased with our current operations at these locations," a spokeswoman says.
Metropolitan Vancouver's industrial vacancy rate reached 1.7 percent in the first quarter of 2016, the first time it fell below 2 percent since before the 2008 economic crash, says Colliers International Group. Meanwhile, the port has extended its container-handling hours to midnight, and warehouses are adding higher ceilings to grow vertically. But that only eases the pressure—it's not a solution, Xotta says. Eventually some businesses will find it easier or cheaper to be nearer the port in Long Beach or Calgary's rail lines. "It'll have a self-leveling effect," he says.
 
—With Katia Dmitrieva
The bottom line: If Vancouver can't make room for industry, some worry it will become a city dependent on wealthy retirees and tourists.
Before it's here, it's on the Bloomberg Terminal.
LEARN MORE