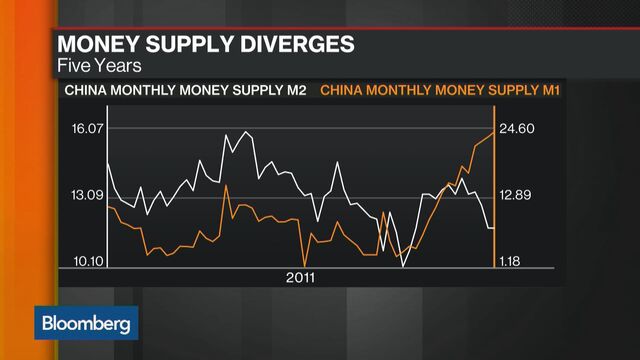 Chinese companies are swimming in cheap cash. Problem is, they're not spending it.
A reluctance to invest is frustrating policy makers after they unleashed a wave of cheap credit in an effort to stoke growth. Rather than build new plants or hire additional staff, corporates are opting to park money at the bank - or send it overseas through buying foreign assets.
Known as the so called "liquidity trap," it's a problem not unlike the experience in Japan where weak business confidence and a reluctance to invest is also holding back the economy.
"Cash-rich Chinese companies are searching for offshore investment, just as the Japanese did in the late 1980s due partly to the strength of the yen in the aftermath of the 'Plaza Accord'," Australia & New Zealand Banking Group Ltd.  economists led by Raymond Yeung wrote in a note. 

China's two main money supply gauges continued to diverge in June. M1, which includes currency in circulation and bank deposits, surged 24.6 percent in June from a year earlier, the biggest increase in six years. The broader M2, which also includes savings deposits, increased 11.8 percent. That was flat from May and below the government's 13 percent annual target.
The divergence has raised eyebrows given the main driver behind M1 since mid-2015 has been a demand for deposits by corporates. While healthier balance sheets offer a buffer to debt-burdened companies, the bigger worry is that these companies are reluctant to spend on expanding new capacity.
In a note titled "The Caution of Chinese Corporations," Thomas Gatley of consulting firm Gavekal Dragonomics highlighted that companies are raising new cash to either hoard it or make financial investments because they expect "a further slowdown in demand for their products, so there is little need to expand production capacity or other fixed assets."
Weak private investment data underscores the observation. Private investment slumped to 2.8 percent in the six months ended in June from a rate of more than 20 percent two years ago. 

Company executives have been voicing their concerns. "I don't know what to invest. It worries me a lot," Zheng Zhe, chairman of Gulifa Group, a manufacturer of power accessories in eastern China's Zhejiang province, was quoted as saying by China News Service. "A lot of industries that we used to put money in have seen tremendous drop in returns. I dare not invest anymore."
Such weak sentiment will drag on China's already slowing economic growth. The International Monetary Fund estimates that China's investment will make up 41.8 percent of its GDP in 2016. 
Chinese policymakers are already concerned. Sheng Songcheng, head of the statistics and analysis department at the People's Bank of China, has warned that signs of a "liquidity trap"  are emerging.
Sheng suggested adding more fiscal stimulus including by increasing the fiscal deficit as high as 5 percent of GDP – the current yearly target is 3 percent – along with sizable tax cuts. That tonic fits the classic solution offered by John Maynard Keynes who proposed the concept of "liquidity trap".
Another solution, according to Larry Hu, China economist at Macquarie Group Ltd. in Hong Kong,  is to counter the nervous sentiment by reviving the corporate sector's animal spirits.
Easier said than done, perhaps.