Brexit to Spark U.K. Recession, Forecasters Say
by and
Survey of economists shows economy shrinking from this quarter

Bank of England forecast to respond with interest-rate cuts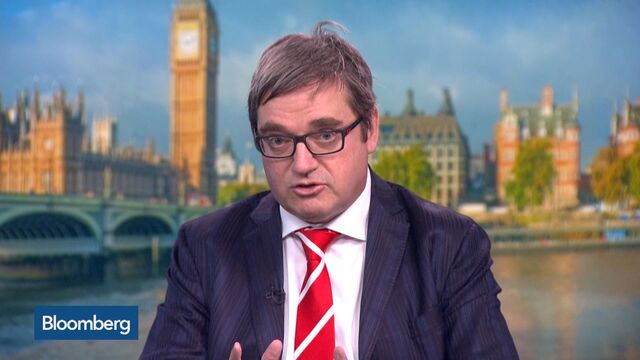 The U.K. economy may be heading for its first recession since 2009, with economists slashing their forecasts in the wake of the Brexit vote and now seeing two quarters of contraction this year.
While the 0.1 percent decline in gross domestic product anticipated in each of the third and fourth quarters is modest, it will mark the end of more than three years of unbroken growth. The projections in the Bloomberg survey compare with a 0.6 percent expansion predicted for those periods before the June 23 referendum.

The changed outlook since the U.K. voted to leave the European Union has the Bank of England -- which had been on a slow track toward interest-rate increases -- now contemplating expanding stimulus for the first time since 2012. While the impact is only showing up so far in measures of consumer and business confidence, that could ultimately spill over into key drivers of growth in the coming months, stymieing the economy.
Even with some predicted BOE stimulus, the probability of Britain sliding into its first recession since 2009 stands at 40 percent, up from 18 percent in June, according to the survey, which was conducted after the central bank's July 14 policy announcement. That's the highest since Bloomberg started tracking the likelihood in 2012.
"We expect to see a recession around the turn of the year, based on the idea that there will be quite a large uncertainty shock which will lead to corporate retrenchment," said Nick Kounis, head of macroeconomic research at ABN Amro Bank NV in Amsterdam. BOE policy makers "need to wait for a little bit of evidence but they can't wait until it has already happened because monetary policy works with a lag."
Rate Cut
Governor Mark Carney has indicated that some easing may be required, and the majority of economists surveyed predict the BOE will respond to the slowdown with one interest-rate cut of 25 basis points before the end of the year, taking the already record-low rate to 0.25 percent. The central bank will also boost its quantitative-easing program, currently 375 billion pounds ($494 billion), by 10 billion pounds in August, according to the median estimate.
The BOE's next policy announcement is Aug. 4, when the Monetary Policy Committee will also publish new growth and inflation forecasts. Officials have said sterling's sharp drop will put upward pressure on short-term price growth, though they have differing views on the medium term, which will play a part in their debate on whether to loosen policy.
'Keep Calm'
There may be some opposition within the MPC to quick action. Policy maker Kristin Forbes wrote in the Telegraph newspaper that there's no need to hurry to add stimulus, citing a moderation of the market turmoil since the vote, calm consumers and "quite solid" growth before the referendum.
"Until more hard data is available, I believe this is a good time to 'keep calm and carry on'," she wrote.
Even without hard data, some companies are expressing concern. Howden Joinery Group, a London-based maker of kitchens, said Thursday that the referendum result means there is "clearly a heightened degree of uncertainty as to how demand in the rest of the year will pan out." Airline EasyJet Plc said that Brexit-related currency volatility was impacting consumer confidence.
Citing its network of economic agents, the BOE said on Wednesday that while it's currently "business as usual" for most firms, around a third of contacts thought there would be "some negative impact" over the next twelve months.
The International Monetary Fund this week slashed its U.K. outlook, as well as its global forecasts, saying Brexit implies a "substantial increase in economic, political, and institutional uncertainty."
Economists in the Bloomberg survey cut their 2016 growth projection to 1.5 percent from 1.8 percent and 2017 to 0.6 percent from 2.1 percent. The latter would be the weakest since 2009, when the economy last suffered a full-year contraction. Inflation is seen averaging 2.2 percent next year, just above the BOE's 2 percent target, and up from 1.7 percent forecast in June.
Watch Next: HSBC 'Not Forecasting an Outright Recession' for U.K.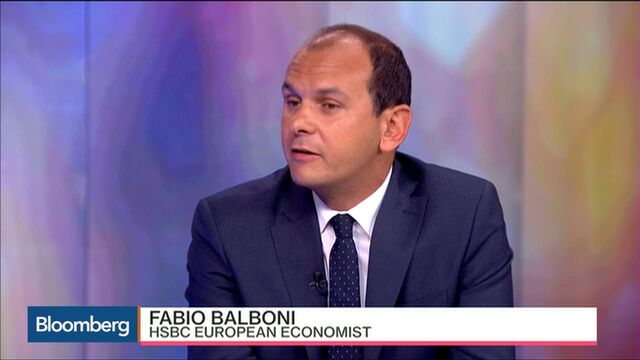 Before it's here, it's on the Bloomberg Terminal.
LEARN MORE