Brexit
Brexit Bulletin: Is Britain on the Edge of Recession?
Here's what you need to know about Brexit today.
By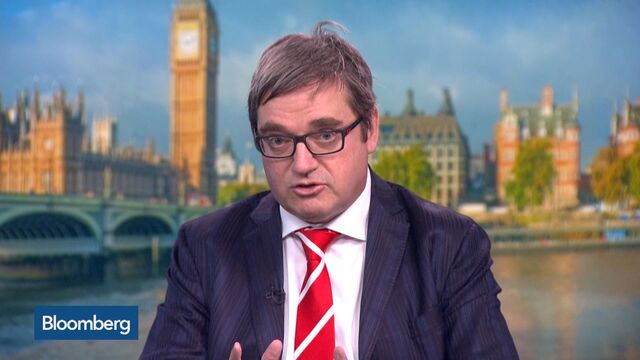 Sign up to receive the Brexit Bulletin in your inbox.
Post-Brexit data is thin on the ground so far, but economists think they know what's coming.
According to a survey by Bloomberg, Brexit may be about to tip the U.K. economy into its first recession since 2009, with forecasts showing two quarters of modest declining growth during the rest of 2016.
A 0.1 percent decline in gross domestic product would mark the end of more than three years of unbroken U.K. growth. And there's a noticeable change since June 23: before the referendum the same survey suggested Britain was headed for a 0.6 percent expansion.

The switch in sentiment has the Bank of England contemplating fresh stimulus for the first time since 2012 even though it acknowledged yesterday that it had yet to see evidence of a sharp slowdown.
The impact is only showing up so far in measures of consumer and business confidence, that could ultimately spill over into key drivers of growth.
BOE policy maker Kristin Forbes nevertheless wrote in Thursday's Daily Telegraph that there's no need to speed aid, citing a moderation of the immediate market turmoil, calm consumers and "quite solid" growth before the referendum.
On to Paris
Prime Minister Theresa May's shuttle tour of European capitals continues on Thursday with a meeting in Paris with President Francois Hollande.
A day after German Chancellor Angela Merkel told May she must stick to the rules for exiting the EU, Hollande will challenge May over plans to build a new nuclear-power plant in the southwest of England. He will also press her on an agreement that allows the U.K. to conduct passport checks on French soil, according to a French government official with knowledge of the president's plans.
"The reception for May could be frostier in Paris than in Berlin," said Carsten Nickel, of Teneo Intelligence.
On the Markets
Update at 12.15 p.m London: European stocks fell slightly ahead of the ECB's rate decision after Bank of Japan Governor Haruhiko Kuroda quelled speculation of so-called helicopter money.

Europe's benchmark Stoxx 600 has alternated between gains and losses in the past week, struggling to recover its post-Brexit losses. While stocks closed at a four-week high yesterday, boosted by positive financial results, they remain below their level on the day of the referendum.
The pound was trading at $1.319, down from $1.3275 in Asian trading.

Draghi Delays
Brexit will loom large over European Central Bank President Mario Draghi on Thursday. While monetary action isn't seen as likely straight away, he might lay the groundwork for more stimulus when fresh economic forecasts are available in September.
Draghi has predicted that euro-area growth will slow as a result of Brexit, suggesting a response is needed. But his stimulus package already includes a 1.7 trillion-euro ($1.9 trillion) asset-buying program – increasingly constrained by ultra-low debt yields. How much further can he go?
And Finally...
Barack Obama's 2008 campaign manager said late Wednesday that the success of the pro-Brexit camp does not foreshadow a Donald Trump victory in the 2016 U.S. election.

"You can't draw an analogy," David Plouffe, who is now adviser at Uber, said at a Bloomberg Politics event in Cleveland during the Republican National Convention.
Trump's campaign and the U.K. movement to leave the European Union seek to tap into similar concerns about national sovereignty, trade, and immigration. But key differences remain, Plouffe said.
"Powerful forces" surrounded the Brexit debate, Plouffe said, and the side opposing Brexit "didn't run a great campaign."
"Brexit was a much stronger candidate than Trump."
For more on Brexit follow Bloomberg on Twitter, Facebook and Instagram, and see our full coverage at Bloomberg.com