Biogen's CEO Is Out After Management Changes, Stalled Sales
By
George Scangos to leave in 'coming months'; search beginning

Adjusted earnings beat estimates; share buyback announced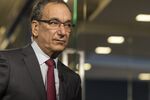 Biogen Inc. Chief Executive Officer George Scangos, who helped build the U.S. drugmaker into a powerful player in multiple sclerosis treatments, will leave the company after a series of top managers were replaced and sales of its biggest product stalled.
Scangos, 68, will stay on until a replacement is found, Biogen said in a statement Thursday in which it also reported second-quarter earnings. In the last year, the Cambridge, Massachusetts-based company announced new heads of sales and research, and its biggest product, the multiple sclerosis pill Tecfidera, disappointed investors.
His departure wasn't a shock, given the company's recent performance, Michael Yee, an analyst with RBC Capital Markets Corp., said by e-mail. "This is one where people thought there could be change given all that has gone on in the past year or so."

The company's next leader will face many of the same challenges that Scangos did in recent years -- how to advance the research and development pipeline of a storied biotechnology company that has made big, risky bets in diseases like Alzheimer's, with mixed results. They'll also need to boost sales of current products, which have surprised investors -- for good and bad -- in the competitive multiple sclerosis market. 
Biogen will likely look outside the company for a new chief, according to Geoffrey Porges, an analyst at Leerink Partners.
Swooping In
"I imagine what they're looking for is someone who's already running a smaller company or has a track record of leading an integrated business unit focused on the neurosciences," he said. Biogen has said it plans to concentrate on neurological drugs, and is working to spin off its treatments for the blood-clotting disorder hemophilia as a separate public company.
A larger company may swoop in to buy Biogen before a new CEO arrives. Gilead Sciences Inc., Merck & Co., Novartis AG and Pfizer Inc. might all be interested in Biogen's MS franchise and drugs in development, Porges said.
"There's a long list of much larger companies who need to diversify and need to add pipeline opportunities -- and Biogen pretty incontrovertibly has the preeminent late-stage Alzheimer's disease program right now," Porges said by phone. "You don't even have an incumbent CEO that you'd have to deal with."
Sales Doubled
Second-quarter profit excluding some items was $5.21 a share, the company said Thursday in the statement. Analysts projected adjusted earnings of $4.69 a share, the average of estimates compiled by Bloomberg. The company also announced a $5 billion share buyback program and raised the upper end of its financial guidance for the year. 
Sales at Biogen more than doubled under Scangos, from $4.7 billion in 2010 to $10.8 billion last year. Tecfidera brought in $3.6 billion in sales in 2015 but still underwhelmed analysts, who had expected more from the product. Last month the stock sank after an experimental therapy for MS failed in a mid-stage trial. 
Second-quarter Tecfidera sales were $987 million, according to the statement. That missed the $991 million average of analysts' estimates compiled by Bloomberg.
Biogen rose 5.9 percent to $278.38 at 11:45 a.m. in New York, after earlier reaching $281.33 in the stock's biggest intraday gain since January. The shares have underperformed the Nasdaq Biotechnology Index since 2014.
"The board and I recognize that this is an excellent time for a transition," Scangos said on a call with analysts Thursday. "This is an opportune time for me to return to the West Coast, take on one more set of activities, and spend more time with my family."
He became chief executive in 2010, when the company was called Biogen Idec, after the departure of previous CEO James Mullen, and presided over the introduction of Tecfidera. Prior to that, Scangos was chief executive of Exelixis Inc. from 1996 through 2010.