business
Billionaire Ashley Faulted for 'Appalling' Labor Conditions at Sports Direct
By
'Incredible' that Ashley unaware of practices, lawmakers say

U.K. Commons panel criticizes billionaire retailer in report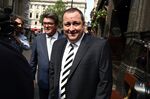 Mike Ashley, the billionaire founder of Sports Direct International Plc, must be held accountable for working practices that treated the retailer's employees without dignity or respect, U.K. lawmakers said.
Members of the House of Commons Business, Innovation and Skills Committee struggled to believe statements by Ashley that he wasn't aware of incidents such as staff being promised permanent contracts in return for sexual favors or the practice of workers being penalized for taking time off sick, the panel said in a report published in London Friday.
Either Ashley is guilty of willfully ignoring the "appalling" practices to maximize profits or there are major governance failings at Mansfield, central England-based Sports Direct, the committee's chairman, opposition Labour Party lawmaker Iain Wright, said in an e-mailed statement.
Sports Direct's business model involves "treating workers as commodities rather than human beings," Wright said. "This model has proved successful for Mr. Ashley, and there is a risk this will become much more the norm in Britain."
Ashley has been under intense scrutiny over employing the majority of staff on so-called zero-hours contracts, which provide no guaranteed minimum working time, a step that has helped Sports Direct grow to become the U.K.'s largest sporting-goods retailer. The company's shares have fallen more than 60 percent since the Guardian newspaper reported last year that its policy of searching warehouse staff at the end of a shift meant it effectively paid below the minimum wage.
Internet Strain
In their findings -- which follows testimony from Ashley, worker representatives and staffing agencies used by Sports Direct -- the lawmakers rejected Ashley's argument that the strain put on the company by the advent of internet retailing meant it was impossible to employ all staff on permanent contracts.
The committee said it found no reason for the extensive use of temporary contracts other than to cut staffing costs and sidestep responsibility for working practices.
Lawmakers said they look forward to hearing how Ashley plans to address the company's poor treatment of its staff, when the 51-year-old announces the results of his personal review into Sports Direct's working practices.
Before it's here, it's on the Bloomberg Terminal.
LEARN MORE