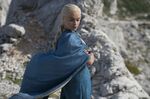 Iceland's economy is growing at its fastest pace since the 2008 collapse of its banks, with annual gross domestic product up a whopping 4.2 percent in the first three months of the year.
Latest tourism and spending data suggests the Icelandic summer could be just as good.
Thanks in part to the popularity of Game of Thrones – filming for the seventh series is due to start in Iceland in January  – and the exploits of its thunder-clapping soccer team at the Euro 2016 championships, foreigners are flocking to the North Atlantic island nation.

The number of tourists has been growing steadily since the start of the decade and is now a bigger source of foreign sales than traditional exports like fish and aluminium. The Chamber of Commerce once called tourism "the largest recession remedy for the Icelandic economy." 
June data suggests 2016 could smash last year's record of 1.3 million arrivals.
While local travel agencies continue to offer tours of the locations where the popular U.S. television series was filmed,  Marino Melsted of Statistics Iceland says tourism may well benefit thanks to "more exposure due to the unexpected success of the Icelandic team."
According to proponents of Soccernomics, Iceland's fairy tale adventure in France, where they defied the odds to beat England and reach the quarter-finals, could provide an additional boost to the economy via a "feel good factor."
Ecstatic Icelandic fans have certainly gone on a spending spree while in France – they bought 27,000 tickets for the championship, with reports suggesting as much as 10 percent of the country's population was there to support the team.

However, the record amount spent by Icelanders abroad in June pales in comparison with tourist receipts – foreigners spent a whopping 26 billion kronur ($212 million) with their credit and debit cards while in Iceland.
Arion Bank estimated that a victory in the July 10 Paris final of the Euro 2016 championships would have added 0.2 percent to GDP thanks to prize money from organizers.
While drawing sympathy for their team spirit and unusual celebrations, Iceland were eventually knocked out by hosts France. No matter. Its economy looks set to have won regardless. 
Before it's here, it's on the Bloomberg Terminal.
LEARN MORE