Restaurants
This Is the Reason Urban Outfitters Bought a Pizza Chain
Marc Vetri, owner of Philadelphia's Amis and Pizzeria Vetri, talks candidly about the "non-stop evolving" deal between his company and the retail giant.
By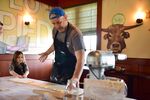 The day millennial retailer Urban Outfitters announced it was buying Philadelphia's Vetri Family group of restaurants, including Pizzeria Vetri, to complement its clothing stores, its stock fell as much as 10 percent.
Wall Street analysts couldn't get their heads around why Urban Outfitters would incorporate restaurants into its brand. Other chefs were also confused by last November's deal: How did a well-respected chef do the hardest thing in the business — make a lot of cash to the tune of $20 million — while still retaining his flagship location? Peter Elliot caught up with Marc Vetri to find out how the tie-up is working and whether he thinks retail and dining are a logical match. Comments have been edited and condensed.
How did this deal come about?
It's pretty simple. They would come into the restaurant, and we got to talking. This is how these things happen.
What benefit did a chef with years of experience see from selling to a specialty apparel store like Urban Outfitters?
Retail is very hard right now, and they were looking at us thinking, "Hey, restaurants are really hot right now. Chefs are really hot."
One could argue you are hot!
One could argue I am hot. I wouldn't argue that. What I would argue is that now you can order a sofa on the internet. You can order this. You can order that. But if you want to eat, and if you want to eat at the hot new restaurant, you have to leave your living room and you have to venture out.

Urban Outfitters is looking for a way to bring people back to the retail experience. What were you looking for? To change the world? Or for cash?
I was looking for support, growth. You look at a relationship, us and them, and now we're like just one family. They start looking at our operations a little bit and I listen and am learning to make changes.
Does that mean that the structure of the deal has changed since last year?
It's non-stop evolving. We're looking into various restaurant situations where we have them near the stores, but then maybe we also have them in certain stores.
How does it feel being out of the kitchen?
It feels great. I think that everybody said, "Oh, after this thing is over, you're going to feel different." If anything, the opposite has happened. I am more aware, and it actually hurts me more now when the numbers are off.
So would you say that Urban Outfitters has made a good deal here?
I think they made a good deal. I think we made a good deal. There is always the "We should have sold for more," or "They should have spent less" thing. But I think it was a very fair deal for the both of us.
Urban Outfitters has a $3 billion market cap. So for them to bet on a method of getting people into their stores and changing the retail experience by spending $20 million on a risk with you seems like a bargain. Is it?
It is nothing to sneeze at! We're restaurant owners. We understand what the margins are. Think about this: we had seven restaurants, we wanted to grow, we don't necessarily know how to scale things efficiently. They have the knowledge that we don't have and we have the knowledge that they don't have. That's where I think the magic happens, right?
Do you think this combination of restaurant and retail is a model for how the food industry or restaurateurs could work going forward?
I have been thinking about that a lot because — listen — the industry is not the same. When I opened Vetri in 1998, I was able to open up a 30-seater with $150,000. That's not happening now. It's a new world. There are new laws, health insurance, minimum wage issues. It's making it harder for the restaurateur, the small guy, to make a living. So honestly, I think we're going to make history. I think that seven years from now, they're going to ask who started this. And they'll say "Oh yeah, remember? Urban Outfitters and the Vetri family!"
It may well be. So you're really out in uncharted waters. How does that feel?
I am. I'm the rudder, man. I'm on the rudder and there is wind. There is a sail. There is a motor. I'm just kind of steering the boat and we're seeing where we go.
What happens if Urban Outfitters is bought up? Or decides to sell?
I don't really foresee that happening. Richard Hayne [Urban Outfitters's CEO], all of us, we have the same work ethic, the same mindset. We're onto something big.
Before it's here, it's on the Bloomberg Terminal.
LEARN MORE