VW Earnings Rise Amid Recovery From Diesel-Emissions Scandal
by
Namesake VW car brand improved after weak start to the year

Full-year outlook remains unchanged as further costs booked
Volkswagen AG's first-half earnings exceeded market expectations, sending its shares up the most in three months, as improvements at its namesake car brand eclipsed concerns about the growing price tag for the emissions-cheating scandal.
Operating profit before special items rose to 7.5 billion euros ($8.25 billion) in the first six months of 2016 from 6.99 billion euros a year earlier, the German carmaker said in a statement. The first-half figure excluded 2.2 billion euros in additional provisions arising chiefly from legal risks in the U.S., increasing the total cost of the scandal to more than 18 billion euros.
"The numbers show a historic record result in the second quarter, and that's just spectacular considering the headwinds VW faces with declining revenues and all the woes triggered by the diesel scandal," said Juergen Pieper, a Frankfurt-based analyst at Metzler Bank. "Efficiency gains at the VW brand seem to be the key driver, and the speed at which this industrial behemoth is changing to achieve this is remarkable."
Former BMW AG executive Herbert Diess took charge at the struggling VW marque last year and accelerated efforts to reduce spending and boost efficiency as part of a broader 12-point revamp. The division is phasing out slow-selling models and slashing the number of vehicle variants to save development and production expenses. Diess also installed a new reporting structure focused on model lines to weed out convoluted decision-making processes and make the business more nimble.
The preliminary earnings figures, released in advance of the full quarterly financial report due on July 28, showed Volkswagen's operations have been recovering even as the company continues to wrestle with legal fallout from the scandal. The attorneys general for New York, Maryland and Massachusetts announced lawsuits Tuesday alleging that the cheating stretches back as far as 1999 and that "top brass" was aware, undercutting Volkswagen's explanation that the deceit was the work of a small group of employees.
Shares Gain
Volkswagen rose as much as 7.3 percent, steepest intraday gain since April 21, and was trading up 5.8 percent at 123.25 euros at 3:28 p.m. in Frankfurt. That narrowed the stock's decline this year to 7.9 percent this year, valuing the company at 64.4 billion euros.
The state lawsuits were a blow after Europe's largest automaker reached a crucial milestone last month by hammering out a $15.3 billion settlement with U.S. authorities. Chief Executive Officer Matthias Mueller has also presented a strategy for emerging from the crisis by pushing the development of electric car and self-driving features and investing in ride-sharing and other services.
Volkswagen, which has resisted calls from consumer groups and politicians to compensate about 8.5 million affected European customers, stuck to its full-year earnings targets. The company is predicting that 2016 operating profit before special items will be between 5 percent and 6 percent of sales, with revenue down by as much as 5 percent. Including special items, first-half operating profit fell to 5.3 billion euros from 6.82 billion euros a year earlier.
Watch Next: The Long Rise and Rapid Fall of Volkswagen: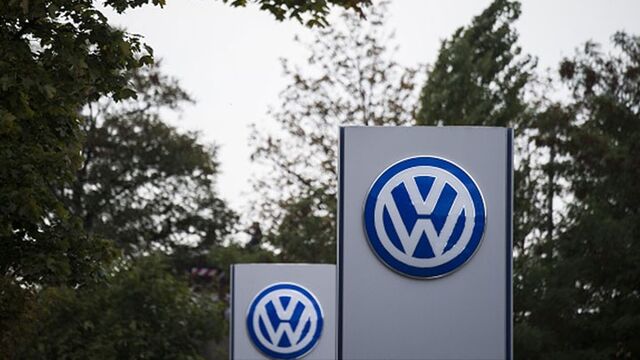 Before it's here, it's on the Bloomberg Terminal.
LEARN MORE