Venezuela's Fishermen Catch No Break as Crisis Riles Margarita
by
Locals can't pay the prices fishermen need to make ends meet

Prices are higher in nearby Trinidad, but there are pirates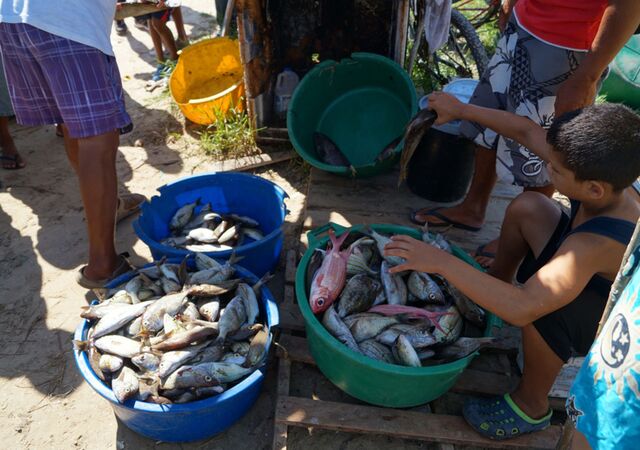 Life for fishermen on Venezuela's Margarita Island used to be easy, with the sparkling waters of the Caribbean yielding rich catches of grouper, red snapper and octopus for sale to wealthy tourists. Now the island has fallen into poverty and attempts to sell on neighboring islands can lead to a run in with one of the region's oldest industries -- pirates.
Many fishermen near the El Tirano fish market in the east of the island say costs are so high and prices so low that it isn't worth taking their boats out. Even the tourists that used to pack local hotels are staying away, forcing some restaurants to close.
"Fishing isn't profitable anymore in Venezuela," Jose Diaz, a 40-year-old fisherman, said in an interview. "We have to leave for work at 3 a.m., we risk robbers and we have to sell at low prices, because in Venezuela no one can pay what things really cost."
The economic slump is reaching every corner of the once oil-rich nation, including the so-called Pearl of the Caribbean that boasts palm-lined beaches backed by tropical jungles. Even as people on the island go hungry and thousands form long lines outside supermarkets and bakeries for the most basic items, fishermen can't sell their produce.
To read a QuickTake on Venezuela's economic crisis, click here.
A kilo of grouper should cost around 5,000 bolivars, according to Dionisio Hernandez, a 29-year-old fisherman. That's only about $7.81 at the weakest legal exchange rate of 640 bolivars per dollar. But it's expensive for locals, most of whom make around the minimum wage of 33,000 bolivars ($52) a month.
"We're selling on credit to people we trust because the banks don't allow you to get out enough cash for what the fish are worth," Hernandez said in an interview from his house near the market. "We're no longer even selling the expensive kinds because there is no one who can pay what its worth."
Pirates and Troops
The same fish they can't sell in Venezuela can fetch almost four times as much in nearby Trinidad & Tobago, said Juan Carlos Rincones, a 27-year-old fisherman who has made the trip twice. It's risky though, and not just because of the rough sea.
"The problem is the pirates," Rincones said. "They rob us at high sea. One time we were coming from French Guiana and they started shooting at us. They took the suitcase that had all the dollars."
With the International Monetary Fund predicting Venezuela's economy will shrink 10 percent this year and that inflation will reach more than 700 percent, there is little respite in sight for the fishermen of Margarita.
Before it's here, it's on the Bloomberg Terminal.
LEARN MORE