U.S. Seeks to Seize $1 Billion Assets Tied to 1MDB, NYT Says
by
Asset seizure may be largest confiscation by Justice Dept

1MDB at center of global probes into alleged money laundering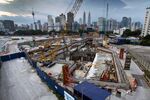 U.S. federal prosecutors plan to seek permission as early as Wednesday to seize more than $1 billion in assets purchased with money allegedly misappropriated from a Malaysian state investment company, the New York Times reported.
The Justice Department is leading the potential asset seizure that it will allege was laundered in the U.S., and which would be its largest such case, the paper said, citing an unidentified person familiar with the plan. Money said to have been embezzled from 1Malaysia Development Bhd. was hidden in the U.S. in real estate, art and other luxury goods, the New York Times said.
1MDB, whose advisory board was headed by Malaysian Prime Minister Najib Razak until it was dissolved recently, is embroiled in multiple global probes related to allegations of money laundering and embezzlement. Najib's family has been entangled in various alleged links to 1MDB funds, alongside a separate donation scandal that has caused more than a year of political tensions in Malaysia.
For an explainer on multiple probes into 1MDB, click here
The Justice Department's Kleptocracy Asset Recovery Initiative unit will name Najib's stepson Riza Aziz, Malaysian financier Jho Low and Khadem Al Qubaisi, former managing director of Abu Dhabi's International Petroleum Investment Co. in its court filing, the paper said. The department's public affairs office couldn't be reached by phone outside U.S. office hours.
Relatives or associates of Najib have invested millions of dollars in real estate and art in the U.S., the New York Times previously reported.
It isn't clear what assets will be confiscated but it will likely include properties, the Wall Street Journal said separately in a report on Wednesday.

1MDB didn't respond to a request for comment, while Najib's press secretary couldn't immediately provide a response. 1MDB and Najib have consistently denied wrongdoing. Efforts to reach Low for comment via his Hong Kong-based company Jynwel Capital were unsuccessful. Low has also previously denied wrongdoing.
James Bates, a representative for Riza's film production company Red Granite Pictures in Los Angeles, said he couldn't immediately comment on the WSJ report, and Al Qubaisi didn't respond to calls to his mobile phone. WSJ didn't say if it contacted any of the parties, including U.S. authorities for comment. The New York Times said it couldn't immediately get a comment from Riza, Low or Al-Qubaisi.
Before it's here, it's on the Bloomberg Terminal.
LEARN MORE