U.K. Seals Files on Sixties Profumo Sex Scandal Until 2047
by
Details of affair locked away due to promise made to witnesses

Other files reveal plan to use baby prince to bury bad news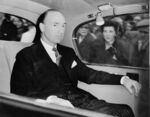 U.K. government files on the Profumo affair, one of the most famous scandals in British political history, have been sealed for another three decades, not to be opened until 2047.
In 1961, War Secretary John Profumo had a brief fling with Christine Keeler, a teenage showgirl who was also, by her own account, sleeping with the Soviet naval attache in London, a KGB agent. When the relationship became public two years later, Profumo initially denied it, before admitting the truth and resigning. Prime Minister Harold Macmillan quit on health grounds a few months later, and his Conservative Party lost the 1964 election.
Alfred Denning, a senior judge, was asked to investigate and reported there had been no breaches of security. While his conclusions were published in September 1963, he heard testimony in private. On Thursday, as the government opened up more of its previously secret papers from the 1980s in the National Archives in London, it emerged that 45 files from Denning's inquiry are to remain locked away.

The Cabinet Office said that Denning had promised witnesses that the records of their testimony would be destroyed. As a compromise, they won't be released in their lifetimes. Keeler is now 74.
Thatcher's Son
Also being kept out of the public gaze are files on the business dealings of Margaret Thatcher's son, Mark, 62. Two files titled "Cementation contract: Mark Thatcher and the Omanis" covering the period from 1981 to 1988 won't be released until 2053. Two others -- "Mark Thatcher and the Omanis; other allegations against Mark Thatcher" and "Request by Electronic Data Systems to employ Mark Thatcher" have been marked "temporarily retained" with no release date.
The Omani files relate to a contract to build a new university in the sultanate. Volume 2 of Charles Moore's authorized biography of the former prime minister quotes her former private secretary, Robin Butler, as saying he thought the deal had "conveyed a whiff of corruption."
There is one accidental revelation in the files. In 1983, Thatcher's press secretary, Bernard Ingham, was looking for a way to bury the news of a demonstration by the Campaign for Nuclear Disarmament. He proposed various measures, including speeches by ministers and or statistics that showed more people were "tortoise racing" than protesting. But one idea is redacted in the released papers.
Unfortunately for the censors, a second copy of his memo appears elsewhere, unredacted, and reveals that burying difficult news is an old art: "I recommend pictures of Prince William in Australia are released" on the day of the protest, Ingham wrote. The prince was then nine months old.
Before it's here, it's on the Bloomberg Terminal.
LEARN MORE