Turkish Government to Consider State of Emergency After Coup
By , , and
Lira falls to record low after S&P cuts ratings on coup affect

National Security Council, AK Party, cabinet to meet Wednesday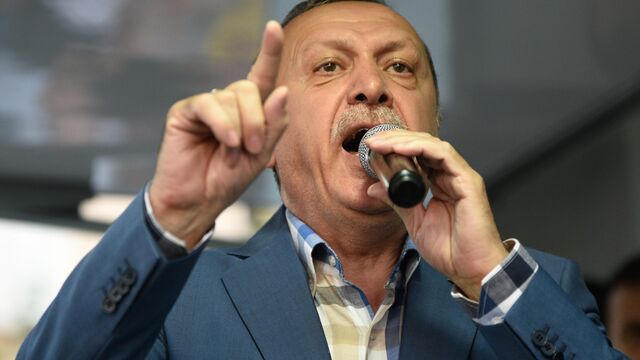 A leading member of President Recep Tayyip Erdogan's ruling AK Party said Turkey could consider imposing "extraordinary measures" as top security officials met for the first time since Friday night's thwarted coup. The lira fell to a record low after S&P Global Ratings downgraded the country's debt.
The National Security Council, which consists of Erdogan and top generals as well as some members of government, "may take some steps" if it decides that a state of emergency is necessary, AK Party Deputy Chairman Cevdet Yilmaz told Haberturk television. The council meeting ended just before 6 p.m. in Ankara, after which Erdogan was to gather the cabinet for talks that could last hours.

Deputy Prime Minister Nurettin Canikli had told BloombergHT television on Tuesday that measures will include a "new framework in line with the constitution" for the prosecution of the coup plotters. Erdogan's chief adviser Cemil Ertem told the state-run Anadolu Agency there's no plan to impose capital controls, and Deputy Prime Minister Mehmet Simsek said on Twitter that policy steps will be "market friendly."
Under Turkey's constitution, the government has to seek parliamentary approval to impose a state of emergency -- for a maximum period of up to six months -- if the country's "free democratic order" is under threat.
Crackdown Intensifies
The government's crackdown in reprisal for the attempted coup continued, with academics including university presidents barred from traveling abroad until further notice, Anadolu reported, citing the Council of Higher Education. They have been told to "assess" academics and staff linked to Gulen. NTV said the presidents of four universities were removed from office, and 245 staff were fired at the Youth and Sports Ministry.
Turkey has detained, suspended, fired or stripped the professional accreditation of around 60,000 people, according to Bloomberg calculations. Erdogan has blamed the foiled military intervention on supporters of U.S.-based religious leader Fethullah Gulen.
The purges have unsettled Turkey's allies and investors, raising concern that Turkish society will be further destabilized and its institutions weakened. Erdogan has been seeking to consolidate power in the presidency since he was elevated to that office two years ago, and has indicated he believes the attempted coup vindicates his policies. Late on Tuesday, U.S. President Barack Obama, in a phone call, urged his ally to act in a way that was "consistent with the democratic" values of the Turkish constitution.
'Freedom of Expression'
"We are witnessing a crackdown of exceptional proportions in Turkey at the moment," Andrew Gardner, Amnesty International's Turkey researcher, said in a statement. "While it is understandable, and legitimate, that the government wishes to investigate and punish those responsible for this bloody coup attempt, they must abide by the rule of law and respect freedom of expression."
The lira traded as low as 3.0834 to the dollar, compared with about 2.90 in the days before the attempted coup, and below the record low 3.0752 set in September. Yields on Turkey's 10-year bonds rose for a fourth day to 10.07 percent.
S&P cut Turkey's government debt to BB from BB+, saying the coup and its aftermath risk undermining Turkey's investment environment, growth and capital inflows.
Moody's Investor Services said Monday it has put Turkish debt on review for a possible downgrade from its Baa3 credit rating, already the lowest investment grade, because of the attempted coup and its potential impact on growth. JPMorgan analysts wrote in a note Wednesday that Turkish sovereign bonds worth $7.2 billion are at risk of forced selling if Turkey's ratings are cut to junk. S&P's ratings were already non-investment grade.
Erdogan adviser Bulent Gedliki said on Twitter that S&P's ratings cut was "illogical."
'Market Stress'
"The longer the backlash continues, the greater the risk of market stress," William Jackson, a senior emerging-markets economist at Capital Economics in London, said in an e-mail. "Over the longer-term, it would almost certainly result in weaker growth as it acts as further evidence of policy making becoming more arbitrary and unpredictable which would damage investment."
As the post-coup backlash gathers pace, European leaders have warned Turkey about re-instituting the death penalty, with French President Francois Hollande on Tuesday saying such a move would end Turkey's European Union membership talks. The last executions in Turkey were in the mid-1980s and capital punishment was formally abolished in 2004.
The U.S.-Turkish relationship has been tested by recent events, with officials trading barbs in the last few days about Turkey's request that the U.S. extradite Gulen, who has denied any involvement in the failed putsch. On Tuesday, the defense ministers of the two NATO countries spoke by phone and re-affirmed their commitment to fight Islamic State, the U.S. Defense Department said in a statement.
The coup attempt came with Turkey engaged in an escalating fight with Kurdish PKK rebels and unsettled by a series of major bombings claimed by Islamic State. Seeking to end speculation that Kurdish militant leader Abdullah Ocalan had been harmed during the military uprising, the Justice Ministry said that he was "in good condition," NTV reported.
Before it's here, it's on the Bloomberg Terminal.
LEARN MORE