Top Trump Aides Signal Support for a Super-PAC
The campaign's overture signals a potential thaw between Trump and the type of group he disavowed during the Republican primaries.
By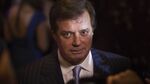 Top aides to Donald Trump's campaign signaled support for a group that can collect contributions of unlimited size from wealthy donors, as the Republican nominee tries to narrow the massive financial lead enjoyed by Democrat Hillary Clinton.
Paul Manafort, the Trump campaign chairman, spoke by phone at a fundraising event in Cleveland on Wednesday organized by Rebuilding America Now, a super-PAC that supports Trump. Marty Obst, a top adviser to Trump's running mate Mike Pence, appeared in person.
The campaign's overture signals a potential thaw between Trump and super-PACs, after he disavowed the groups during the Republican primaries and ridiculed his opponents for depending on their support. It may also provide guidance to Trump donors who were uncertain about which of several competing super-PACs enjoys a tacit blessing from the campaign.
"If we go into this with a hydra-headed effort, we're not going to be able to compete," said Alex Castellanos, one of the organizers of the group, in an interview following the meeting. A Trump spokeswoman didn't respond to requests for comment. 
Trump's campaign has been slow to mobilize a fundraising apparatus that could rival that of Clinton, but that could be changing. Tuesday's prime-time coverage of the Republican convention helped the campaign to one of its best one-day online cash hauls, according to Steven Mnuchin, his top fundraiser. Meanwhile, officials from a variety of allied super-PACs reported success this week as they prowled the convention hall wooing donors.
Partly because of a lack of clear support from the campaign, the pro-Trump groups struggled in their early weeks to raise the tens of millions of dollars they believe they will need to combat Clinton's operation, which includes a super-PAC with more than $40 million on hand.
The gathering Wednesday at the Ritz-Carlton hotel in Cleveland drew some of the party's most prominent donors. On hand were the private-equity investor Stephen Feinberg, the hamburger chain executive Andrew Puzder, and John Catsimatidis, the billionaire grocer, Castellanos said. Woody Johnson, the owner of the New York Jets, sent a representative.
An aide to another major donor, the Home Depot co-founder Bernard Marcus, told the group that he'd researched the various super-PACs and settled on this one, Castellanos said. Obst told the group that Pence had set aside time in his schedule to make appearances on behalf of the group in the coming months, he said.
Donors were shown a slide presentation that included a statement attributed to Pence: "Supporting Rebuilding America Now is one of the best ways to stop Hillary Clinton and help elect Donald Trump."
The group received a $3 million contribution this week, and recently had promising discussions with a well-known political donor about a $20 million infusion, according to Ken McKay, another Rebuild America Now organizer. Combined with other potential gifts, the group expects to receive about $60 million, he said. A major part of his pitch: Clinton's allies are pounding Trump with negative ads and there is little return fire.
"A good way to lose the race is to let them pile up negatives against us and not answer them," McKay said.
His is not the only group vying for Trump donors. At an event at the Ritz hotel on Monday for a super-PAC known as Great America PAC, about 70 people munched on ratatouille and salmon medallions and heard from former presidential candidate Ben Carson as well as the widow of a Navy SEAL killed in Benghazi, Libya. Among major political donors attending were Harold Hamm, a billionaire Oklahoma oilman, and the former money manager Foster Friess.
Last week, another top donor, Robert Mercer, contributed $2 million to a super-PAC known as Defeat Crooked Hillary, according to Dave Bossie, who runs the operation. Unlike its peers, Defeat Crooked Hillary will focus exclusively on negative messages about Clinton. Bossie said a series of one-on-one meetings he's had with donors this week are likely to lead to more million-dollar-plus donations.
Cooperating, however tacitly, with the super-PACs brings political risks for Trump.
During the Republican primary, Trump boasted of his independence from big donors and called the other candidates "puppets." Some allies funded a super-PAC to support him, but after media reports surfaced about cooperation between the PAC and the campaign, Trump disavowed the group in October and it disbanded.
As recently as last month, a top Trump aide was still taking a hard line. "He doesn't want it. He's actually gone out of his way to shut down super-PACs that have started to use his name," said Michael Cohen, a longtime Trump lawyer, during a forum organized by Bloomberg Politics in New York. "He does not want a super-PAC."
Mnuchin, Trump's finance chairman, declined to comment on Wednesday on the campaign's stance toward super-PACs. But he said Trump has rapidly ramped up a campaign fundraising operation after deciding to start actively soliciting money only in May. Trump plans to attend a luncheon event on Thursday in Cleveland to mingle with about 500 Republican donors, Mnuchin said.
The campaign has had particular success raising money in small amounts online, Mnuchin said, aided by Trump's millions of followers on social media. A high point was Tuesday, when prime-time coverage of the convention helped bring in millions, he said. He declined to give specifics, but said the amount was consistent with other big online fundraising days, which he said gathered $2 million to $3 million.
The campaign has seen some signs that part of the huge online donor base that supported Bernie Sanders' campaign for the Democratic nomination is now giving to Trump, he said.
"Republican candidates have not traditionally done fundraising online," Mnuchin said. "This is pretty unique."