These Charts Show Why We Shouldn't Bet on a U.S. Version of Brexit in November
Some resemblances, but also key differences.
by and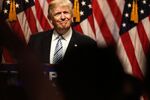 Foreign leaders have speculated — and Republican Presidential Nominee Donald Trump has hoped — that the U.K.'s vote to leave the European Union last month was a preview of what's in store for the U.S. election.
According to a Citigroup Inc. team led by Chief Global Political Analyst Tina Fordham, however, Brexit and the U.S. elections might be songs written in the same key but are starkly different tunes.
Importantly, large swaths of the electorate in both nations are disdainful of the elite ruling class and have fears about immigration, both for economic and security reasons.
But Fordham points to one chart that helps explain why immigration might not be as much of a "flashpoint" in the U.S. election as it was across the Atlantic:

"The rate of migration surged in the U.K. over the last 20 years, while net migration has been relatively steady in the U.S.," she writes.
In addition Presumptive-Democratic Nominee Hillary Clinton is likely to benefit from an electorate that's more ethnically and racially diverse than U.K. Prime Minister David Cameron's, according to Fordham.

"As the campaign rhetoric of this election season has resurrected the specters of anti immigrant sentiment, and gender and racial discrimination, women and ethnic minorities may be galvanized to vote for Clinton, if only as an 'anyone but Trump' reaction," she writes. "With this in mind, voter turnout — especially for women and minorities — will be key."
Nonetheless, the analyst bumped up the probability of a Trump victory to 35 percent, citing her loss of momentum in the polls. Citigroup also highlighted a surge in reported migration fear in both the U.S. and the U.K. that may have been enhanced by the number of terrorist attacks that have occurred over the past year, something that likely bodes well for the Republican nominee.

"As in the U.K. referendum, even if Brexit did not happen, and even if Trump does not win in November, both campaigns have already had a profound impact upon their respective political environments, and galvanized supporters who should not be expected to meekly accept a return to the previous status quo," concludes Fordham.
Before it's here, it's on the Bloomberg Terminal.
LEARN MORE