Temasek Offers S$1.2 Billion to Buy Out SMRT 16 Years After IPO
by , , and
Per-share offer is 8.7% more than last price before halt

State investment company currently has 54% stake in SMRT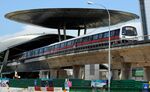 Singapore state investment firm Temasek Holdings Pte offered S$1.2 billion ($880 million) to buy out SMRT Corp., 16 years after the company became the first Asian subway operator outside of Japan to list shares.
The S$1.68 a share proposal, an 8.7 percent premium from the last traded price, values the rail operator at S$2.6 billion. The price is fair and final, Temasek President Chia Song Hwee said in Singapore Wednesday after the buyout, first reported by Bloomberg News this week, was made public.
Temasek is seeking to take the city-state's biggest subway operator private after multiple service disruptions in the past four years evoked public criticism in a country famous for its clean trains and a high-quality public infrastructure. Last week, SMRT said it's transferring S$991 million of rail assets to the national transport regulator to shed assets and focus on improving services.
"They are investing in more infrastructure, even if they are not investing in the assets itself," said London-based Enrico Soddu, head of data at the Sovereign Wealth Center. SMRT offers "predictable cash flows and so slightly less risky investment than the usual investments in tech, consumer services and health care that Temasek generally does."
The state investment firm, which earlier this month reported the first drop in the value of its stakes in seven years, has trimmed exposure to traditional banks. As a group, technology, media and telcos overtook financial firms as Temasek's biggest industry sector for the first time in a decade. Temasek also embarked on a record pace of divestitures as part of the portfolio overhaul.
For Andy Mukherjee's column on Temasek's SMRT buyout, click here.
Temasek sold shares in SMRT in July 2000, pricing the initial public offering at 61 Singapore cents to raise about S$300 million. The share sale was part of the government's bid to loosen its control of the economy. The stock failed to enthuse investors on its debut, gaining just 0.1 percent.

Shares in SMRT traded at S$1.545 on July 15, when they were halted. The company requested a lifting of the trading suspension late Wednesday. Temasek currently owns 54 percent of the rail operator.
Temasek's Chia said the state firm was a long-term investor in SMRT, supported the management's plans and had no intention of losing money. The privatization would give the company flexibility and enhance rail reliability, he told a press conference, adding the buyout was not a nationalization.
"Temasek is an active investor but not an operator," Chia said. "We want to provide an environment to focus on improving the company. There are risks but it also means the company needs to work to make a decent return."
Service Focus
The service disruptions had dented the company's reputation and led the Singapore government to tighten rules on maintenance and supervision. Transport Minister Khaw Boon Wan appointed an engineering specialist in October last year to advise on rail transformation.
As part of the revamp, rail operators were to focus on service instead of having to build up, replace and operate assets.
The operator will use the proceeds to reduce debt. The deal will take place through a so-called scheme of arrangement, requiring approval from a majority of shareholders present at a meeting representing at least three-quarters of eligible votes, according to an SMRT statement. The company won't pay a special dividend from the transaction.
Singapore Buyouts
Temasek has no voting right for this buyout, according to presentation materials filed to the exchange. SMRT is expected to become a wholly owned subsidiary of Temasek around October to November, and be delisted following approval from the exchange.
The latest deal would add to at least four other buyouts with a combined value of about S$4.5 billion in Singapore in the past year.
In December, French container shipping company CMA CGM SA offered to buy Singapore's Neptune Orient Lines Ltd. for S$3.4 billion. Temasek was the biggest seller, divesting its 67 percent stake.
Osim International Ltd. Chief Executive Officer Ron Sim in April increased his cash offer for a second time to S$331 million to take Asia's biggest maker of massage chairs private. A month later, Eu Yan Sang International Ltd. received a takeover bid from a group including a Temasek unit, valuing the retailer of traditional Chinese remedies such as bird's nest soup and ginseng capsules at about S$269 million.
Singapore Airlines Ltd. completed its takeover of Tiger Airways in May for about S$497 million and delisted the low-cost unit carrier.
SMRT currently operates three metro rail lines in Singapore, while rival SBS Transit Ltd. runs two. Singapore is building its sixth line, which will start operations in 2019. Credit Suisse Group AG and Bank of America Merrill Lynch are advising Temasek and SMRT respectively.
Before it's here, it's on the Bloomberg Terminal.
LEARN MORE