business
Sinopec Natural Gas Output Jumps as Crude, Refining Slips
By
Natural gas production rises 10% in the first half of 2016

Crude oil output drops 11%, oil processing slips 2.5%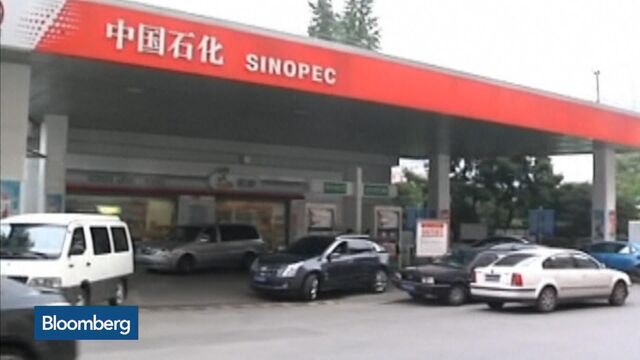 China Petroleum & Chemical Corp., the world's biggest refiner, said crude and fuel production dropped during the first half of the year as natural gas output jumped, highlighting the company's shift toward the cleaner-burning fuel.
Crude output dropped 11.4 percent to 154.2 million barrels, while natural gas output rose 10 percent from January to June to 388.7 billion cubic feet, the Beijing-based company, known as Sinopec, said in a stock exchange filing.
High costs and low prices have resulted in a decline in China's domestic crude output, even as the world's second-biggest consumer imported record volumes. Oil producers, including Sinopec and PetroChina Co., the nation's biggest producer, have said they will shut down high-cost fields this year after prices crashed to the lowest since 2003.
Sinopec plans to double annual gas output to 40 billion cubic meters by 2020 as the country pushes to replace coal with the cleaner fuel, Chairman Wang Yupu said in March. China National Petroleum Corp., the country's biggest energy company, said last week that it will prioritize natural gas exploration and production in the second half of the year.
The 13 percent decline in domestic crude oil output, which makes up more than 80 percent of of its production, outpaced the 3 percent slide overseas, according to the statement. Oil processing fell 2.5 percent to 115.9 million metric tons, the company said.
China's total crude output dropped 4.6 percent to 101.59 million tons in the first six months of the year, the lowest for that period since 2012, according to data from the National Bureau of Statistics on Friday. The drop contrasts with a 4.1 percent increase in natural gas output.
Brent oil price in the first half of the year averaged $41 a barrel, a decline of more than 30 percent compared with the same period a year ago.
Before it's here, it's on the Bloomberg Terminal.
LEARN MORE