New Pimco CEO Manny Roman Faces Outflow, Margin, Profit Pressure
by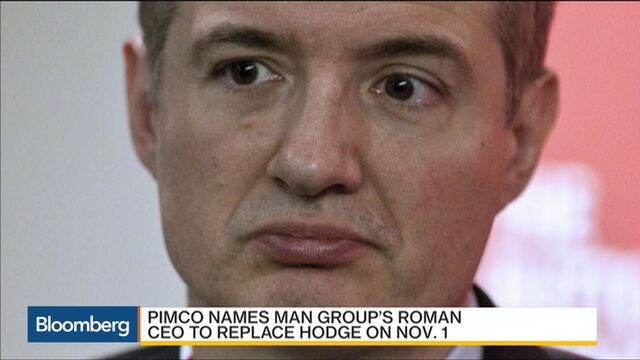 Emmanuel "Manny" Roman's first task at Pacific Investment Management Co. will be reversing outflows at the asset manager. His time at Man Group Plc gave him the experience to do it.
Roman expanded Man Group's assets under management through purchases including Newsmith's equities-management business and Pine Grove Asset Management since he was appointed CEO in 2013. At Pimco, he will take charge of a company that has suffered management upheaval and lost about 25 percent of its assets since that year, when the firm oversaw $2 trillion. Allianz SE, the Munich-based insurer that acquired the company in 2000, said it expects net outflows at the unit to end this year.
"Roman's hiring fits to Allianz's appetite for acquisitions in property and casualty insurance as well as in asset management," said Thomas Seidl, an analyst at Sanford C. Bernstein. "His experience there could have played a role in hiring him. Still, as Allianz doesn't have the cash for big-ticket takeovers, I would expect any to be small to medium-sized."

Pimco's margins are under pressure as costs rose to 64 percent of revenue in the first quarter. Allianz has said the ratio will improve after it pays bonuses introduced to retain talent after Bill Gross's surprise departure in 2014. Pimco last month announced plans to cut its workforce by 68 people, or about 3 percent, to revive profit. The question now is whether Roman thinks this will suffice.

Roman, 52, will assume his new role on Nov. 1, the Newport Beach, California-based Pimco said in a statement Wednesday. He will probably also face pressure to boost the unit's contribution to Allianz's bottom line under new asset-management chief Jacqueline Hunt and CEO Oliver Baete, who has set a target of 5 percent annual earnings per share growth through 2018. The contribution of asset management to operating profit at the insurer has declined sharply since 2013.

Before it's here, it's on the Bloomberg Terminal.
LEARN MORE