May Evokes Thatcher in First Parliamentary Questions Session
by
'Remind him of anybody?' she taunts opposition Labour leader

Tory lawmakers welcome her, while demanding Brexit assurances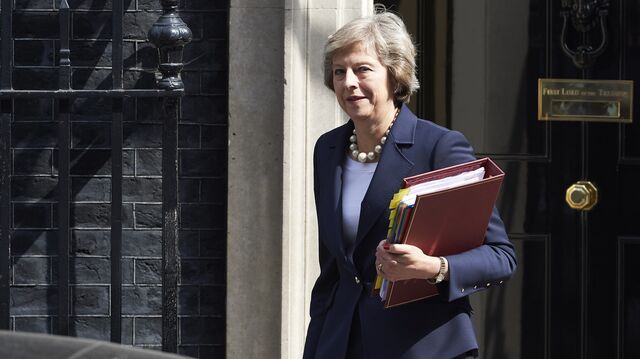 It's 26 years since a woman prime minister answered questions in Britain's Parliament, and Theresa May was bound to face comparisons with Margaret Thatcher. She did nothing to play them down.
"In my years here in this house, I've long heard the Labour Party asking what the Conservative Party does for women," May said as she made her question-time debut Wednesday, to laughter from the Tory lawmakers sitting behind her. "Just keep making us prime minister."
On the opposition benches, Labour leader Jeremy Corbyn struggled to pin May down on a series of issues. Rising to answer him, she didn't even open the binder of facts that every prime minister carries on these occasions, simply swatting the inquiries away. It was when he turned to questions of job insecurity that she delivered her prepared lines.
"I suspect that there are many members on the opposition benches who might be familiar with an unscrupulous boss," she said, to growing laughter. "A boss who doesn't listen to his workers. A boss who requires some of his workers to double their workload. And maybe even a boss who exploits the rules to further his own career. Remind him of anybody?"
On the surface, it was a joke about Corbyn, who has lost the support of most of his own lawmakers, is struggling to appoint spokespeople to fill key roles and has had to ward off attempts to prevent him running in a new election for the party leadership. But it was really a statement of intent. Uttering the final line, May leaned forward on the wooden dispatch box in front of her and deepened her voice, in a clear impression of Thatcher in her prime. Behind her, Conservatives yelled: "More!"
May wasn't troubled by any of the questions in the 39-minute session. She was less good at delivering jokes than her immediate predecessor, David Cameron, but seemed more confident of details. If she wanted to look for danger signs, one was clear: Even as they welcomed their new leader, Tory Brexit campaigners such as Edward Leigh and Philip Davies stood up to demand assurances that she would deliver a complete withdrawal from the European Union. The issue that brought down Thatcher and Cameron hasn't gone away.
Before it's here, it's on the Bloomberg Terminal.
LEARN MORE