Lufthansa, EasyJet Warn of Terror Threat to Airline Profit
by and
EasyJet says market environment most difficult in 10 years

Nice attack compounds concerns after Brussels, Paris incidents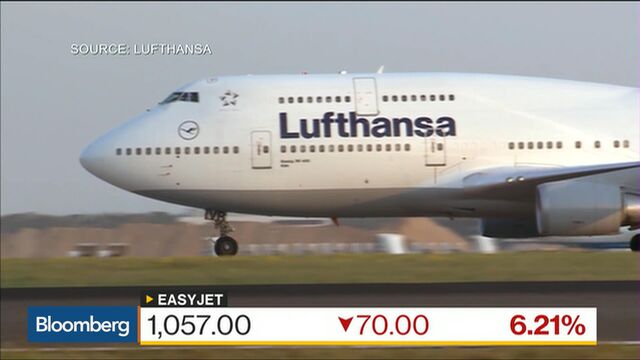 European airlines are warning that more turbulence is ahead for their bottom lines as terror attacks sap demand for short- and long-haul travel during the crucial summer travel season, with the effects magnified by aggressive expansion to take advantage of low fuel prices.
Deutsche Lufthansa AG reversed course on its 2016 forecast, calling for a decline instead of a gain in operating profit, as overseas travelers balk at traveling to Europe following a spate of deadly terrorism attacks, Lufthansa said late Wednesday. The German carrier issued the profit warning because it no longer sees a quick rebound.
EasyJet Plc has offered summer fare promotions for the first time ever amid the worst market in 10 years, according to Chief Executive Officer Carolyn McCall. Rather than a hoped-for revival, revenue per seat is down about 7.5 percent so far in the three months through September, with about 35 percent of bookings still to come. The Luton, England-based discount airline, which faces extra burdens following Britain's referendum to exit the European Union, stepped back from a previous profit forecast and didn't offer a new target amid the uncertainty.
"We've never, ever, in a summer had to promote seats in June and July and we have done so this year," McCall said on a call with reporters. "From a customer point of view, that's fantastic; from a business point of view, your pricing being as low as that in your peak summer trading period is not such a good thing."
The terror incidents are exacerbating the business challenges airlines were already facing. Carriers worldwide have added flights as a drop in fuel prices reduced the cost of expansion, but the profit gains have been limited as the extra seating outpaces demand growth. Consumers, already rocked by attacks in Brussels and Paris and an unexplained crash of an EgyptAir plane, have dropped travel plans since the killing of 84 people in Nice on the French Riviera in mid-July.
"Because of low fuel, there's more capacity in the market, and you also have the fact that it's the summer period as well, so it's the worst possible timing in the year for these type of headwinds," said Jack Diskin, an analyst at Goodbody Stockbrokers in Dublin.

Lufthansa is the first European airline to tie terrorism concerns directly to a profit warning, though Ryanair Holdings Plc cited the effects of attacks when it scaled back an earnings-growth outlook in May. EasyJet refrained from making an earnings prediction for the rest of its fiscal year because of the Nice incident and an attempted coup in Turkey. Those issues come on top of earlier disruptions due to air-traffic strikes, bad weather and an attack that closed the Brussels airport in March. Lufthansa expects a slide of 8 percent to 9 percent in unit revenue in the second half of 2016, excluding currency effects, it said Wednesday.
That's an "awful" prediction, in light of the third quarter being the seasonally most important, and estimates for the carrier are likely to be cut "sharply," Gerald Khoo, an analyst at Liberium Capital, said in a report to clients. Widening pension liabilities indicate "the dividend may be at risk," he added.
Still, the headwinds haven't halted capacity growth, with Lufthansa targeting full-year seating growth of 5.4 percent and EasyJet boosting seating by 6 percent in the three months through September. Ryanair has outlined an increase of about 10 percent.
Watch Next: Airlines Feel the Turbulence of Terror Uncertainty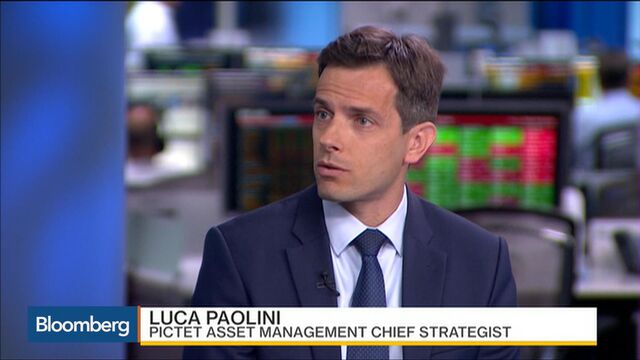 Before it's here, it's on the Bloomberg Terminal.
LEARN MORE