Photographer: Eric Thayer/Getty Images
LGBT Purchasing Power Near $1 Trillion Rivals Other Minorities
by
Annual study comes as companies target growing demographic

About 7% of U.S. adults identify as gay, bisexual, transgender
The combined buying power of U.S. lesbian, gay, bisexual and transgender adults rose about 3.7 percent to $917 billion last year, rivaling the disposable income of other American minority groups, according to an annual analysis.
The forecast, based on an estimate that as many as 7 percent of adults identify as LGBT, reflects the growing acceptance by society as more people are willing to self-identify, said Bob Witeck, who for the past decade has been conducting the annual study through his Washington-based communications firm.
"The footprint that gay people have today in the economy is much, much more present, much more visible," Witeck said in an interview. "Also, companies are responding not just to LGBT purchasing power, they are responding to others who are aligned and sympathetic."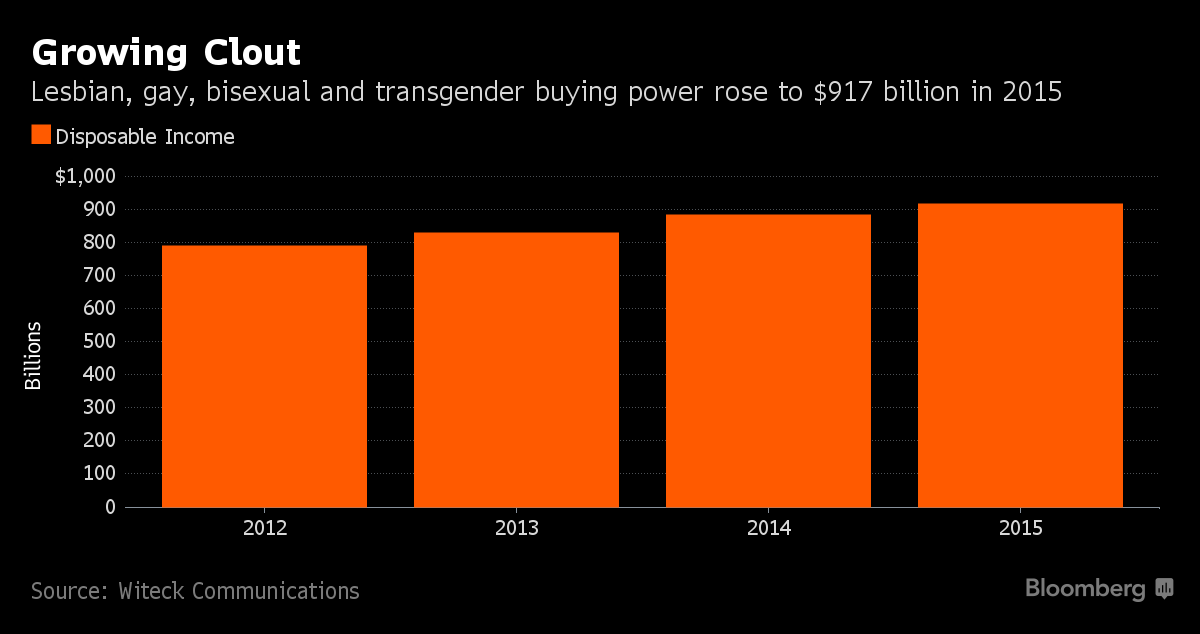 Gay political and economic power is coming into sharper focus as advocates battle for full equal rights at the federal level. At the same time, hundreds of laws were introduced in state legislatures this year that are seen as eroding rights for LGBT people. In support of their gay employees, Dow Chemical Co., Salesforce.com, Walt Disney Co. and other companies publicly pressured states to abandon discriminatory laws.
For a story on companies supporting LGBT rights, click here
In comparison, purchasing power for black Americans was estimated at $1.2 trillion last year, with Hispanic buying clout at $1.3 trillion and Asian disposable income at $825 billion, according to the University of Georgia's Selig Center for Economic Growth. The same methodology is used to estimate LGBT buying power, Witeck said. Total U.S. disposable income last year was $13.5 trillion, according to the Selig Center.
The LGBT estimates are for adults only, while estimates for blacks and Hispanics include children without income, which reduces the average disposable income available for those bigger demographic groups. Gay Americans are included among those minority groups as well, Witeck said.
The trend is likely to continue. With legal gay marriage now a year old in the U.S., the purchasing power of LGBT people is starting to look more and more like the purchasing patterns of other groups, Witeck said.
"It reminds companies how visible the population is today," he said. "In a year's time, marriage has changed things forever, and that genie is not going back in the bottle again. Families are now quite evident. They are coming forward to buy things for their households. They're shopping for cars. They're buying for the kids they are having."
Before it's here, it's on the Bloomberg Terminal.
LEARN MORE