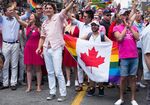 Globalization is under fire in some developed economies. But in parts of the Americas voters are embracing leaders looking to deepen integration and trade. Bloomberg Benchmark is publishing a series of conversations with regional thought-leaders on the topic of globalization. John McCallum is Canada's immigration minister in Prime Minister Justin Trudeau's new Liberal government. As an economist, McCallum was the first to document how companies have a propensity to trade within national borders. Bloomberg's Theo Argitis conducted the interview, which was condensed.



What is the role of immigration in globalization? Are there limits to how fast a country can grow its population and labor force from abroad?
I think the openness of Canadians to immigrants is a competitive advantage for Canada. A large majority of Canadians favor the Syrian refugees. A major problem I have is I cannot bring refugees in fast enough to satisfy the generosity of Canadians who want to take them in. I think compared with most other countries Canadians have an openness to immigrants, an openness to diversity that is an economic benefit from the point of view of the economy. We have an aging population, we have labor shortages in many areas so we do need immigrants. And I think given the attitude of Canadians, we are well positioned compared with other countries to attract immigrants.
Should we be worried the era of trade liberalization is over?
No, certainly not for Canada. As enthusiastic about trade liberalization as we ever were, you are right, not everybody shares this view. But we certainly do so. We are working very hard to get the European deal, CETA, approved and we are working to liberalize trade in other countries and Asia and elsewhere and we clearly want to continue.
Canada has struggled at times with large amounts of foreign capital inflows. Are there times when it should be restrained?
The history of our government shows that we are open for people, for trade, for investment. That's our disposition and that doesn't change because parts of the world have changed. But in terms of degree, on the detail of foreign investment, again I don't want to get into other people's territory, but I would say our overall stance is one of welcome and openness.
In what was your most widely cited work as an academic, you published a study in 1995 that showed national borders do matter a lot for trade. It's been characterized as one of the great puzzles of economics, similar to the home bias for investors. Do you believe that such a home bias still exists, and if so, is that a problem?
I'm not sure it is a problem. What that study showed—and it was a long time ago but the basic point still holds—is trade within country, at least within our country, is a lot more intense than trade with other countries. Now, is that a problem? Not necessarily to the extent that the greater internal trade reflects greater ties from various associations, from kinship, from being a country. The extent to which it reflects the importance of trade barriers internationally, then you can look upon it as a problem. I'm not sure the evidence is fully in on that question but I tend to regard it more of a positive thing reflecting the things that bind together a nation. If anything it would enhance our desire to enhance our trade relations and break down barriers with other countries.
Should Canada do more to integrate with the U.S.?
It takes two to tango, especially when the other one is much bigger than us. It's not purely a Canadian position. There could be areas of harmonization in different areas that could be beneficial but I think we already have deep relations with the U.S. I think we always have to nurture that relationship but at the same time we are seeking to diversify our trade relations around the world.

Read earlier conversations in the series here.
Before it's here, it's on the Bloomberg Terminal.
LEARN MORE