IMF Sees Venezuela With Double-Digit GDP Contraction in 2016
by
Distortions and fiscal imbalances remain unaddressed, IMF says

Venezuela has world's worst inflation and growth performance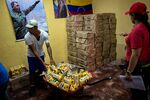 Venezuela's economy will shrink this year by the most in more than a decade as the population struggles with food shortages and opposition to President Nicolas Maduro gains force, according to the International Monetary Fund.
Gross domestic product will contract 10 percent in 2016, Alejandro Werner, the IMF's Western Hemisphere director, said in a report released Wednesday. In April, the multilateral lender forecast the economy of the oil-producing nation would shrink 8 percent this year. 
The IMF's new forecast is worse than all but three estimates from 15 economists surveyed by Bloomberg and comes in line with that of the World Bank, which in June projected a 10.1 percent contraction for Venezuela.
"Venezuela's economic condition continues to deteriorate, as policy distortions and fiscal imbalances remain unaddressed," Werner said, adding that with consumer prices expected to increase more than 700 percent this year, the nation has the worst inflation and growth performance in the world.
Power generation problems that forced Venezuela to shorten work weeks to only two days intensified the economic crisis this year, Werner told reporters in Washington. The Fund hasn't yet incorporated a similar effect in its 2017 forecast for a 4.5 percent contraction. "There is a lot of uncertainty to make forecasts beyond a few months in Venezuela," he said.
Venezuela, which sits on the world's largest oil reserves, has seen its economy deteriorate as prices for the commodity dropped and production hit a 13-year low in June. Parents are struggling to feed their families and there have been increasing protests in opposition to the government. Even some companies that stuck with Venezuela through years of nationalizations and currency losses have begun pulling out.
Brazil Recovers
The IMF meantime boosted its outlook for Brazil, forecasting its economy will grow 0.5 percent next year, rather than stagnate as it previously expected. The improved estimate follows a smaller-than-expected GDP contraction in the first quarter that indicated Brazil's two-year recession will hit bottom this year. Still, higher unemployment will drag on demand, according to the report.
The government of Acting President Michel Temer has outlined a strategy to curtail Brazil's unsustainable spending over the medium term in order to gradually reduce the budget deficit, and must focus on overcoming challenges to its implementation, according to the report.
Before it's here, it's on the Bloomberg Terminal.
LEARN MORE