Erdogan Says Europe Shouldn't Interfere With Turkish Crackdown
Gregory Viscusi and Onur Ant
Turkish president says strategic relationship to continue

Erdogan spoke in interview before declaring state of emergency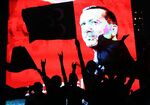 European criticism won't stop Turkey taking steps it deems necessary after last week's failed coup, President Recep Tayyip Erdogan said. He projected a more conciliatory tone toward the U.S. and Russia.
"The EU is not the whole world," Erdogan said in an interview with Al Jazeera on Wednesday before announcing a three-month state of emergency. "It is just 28 countries. The U.S. has the death penalty, Russia has it, China has it."
EU leaders have said that Turkey's negotiations to join their bloc will be terminated if it brings back the death penalty, and have criticized the wave of arrests that followed the failed putsch. Erdogan said the arrests were the state "doing its job" and told French Foreign Minister Jean-Marc Ayrault to mind his own business given that France also introduced a state of emergency after last year's attacks.
"For 53 years, we have been knocking at the door and they have kept us waiting, while others have joined," he said.
The last executions in Turkey were in the mid-1980s and the death penalty was abolished in 2004. Erdogan said restoring capital punishment is being considered because of popular pressure, and the final decision rests with parliament.
U.S. President Barack Obama has joined his European counterparts in warning Erdogan against over-reacting, and Erdogan supporters have suggested U.S. complicity in the coup which they saw was organized by U.S.-based preacher Fethullah Gulen. Turkey is seeking Gulen's extradition.
U.S. Secretary of State John Kerry said today in Washington that he told his Turkish counterpart: "Please don't send us allegations, send us evidence; we need to have evidence which we can then make a judgment about."
Asked if the extradition request would affect wider relations with the U.S., Erdogan said "putting the two issues together is not the right thing to do."
"We have a strategic partnership, and we have to continue our solidarity," he said.
On Russia, Erdogan suggested that the two pilots who shot down a Russian jet on the Syrian-Turkish border in November may have been under orders from the coup plotters. The two pilots have been detained.
"The judiciary must have their doubts because they are now in custody," he said.