Car Bomb Kills Prominent Journalist in Ukraine's Capital
by and
Pavel Sheremet died as he drove to his morning radio show

Vehicle belonged to head of online newspaper Ukrainska Pravda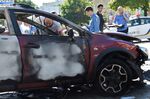 A prominent journalist was killed by a car bomb in the Ukrainian capital, where investigators are probing links to reporting that's touched on corruption and fighters from the conflict in the nation's east.
An explosive device detonated at 7:45 a.m. in Kiev when Pavel Sheremet, a 44-year-old native of Belarus, was driving to the Vesti radio station for his morning show, police said Wednesday in a statement. The vehicle was owned by his partner Olena Prytula, head of popular online newspaper Ukrainska Pravda, where Sheremet also worked. Prytula wasn't in the car.

Sheremet rose to fame in 1999-2000, covering the war in Chechnya for Russian television. Following the later murder of his cameraman, he said his life was in danger from "death squads" sent by Belarus's authorities. That country's leader, Alexander Lukashenko, repeatedly denied links to political kidnappings. Sheremet's recent reporting included blog posts on corruption, a subject of wide discussion in Ukraine, as well as criminality inside a volunteer battalion fighting in eastern Ukraine.
Outside that conflict, the most-recent killing of a journalist in Ukraine came in April 2015, when a writer who backed ousted-President Viktor Yanukovych was shot dead in Kiev. The highest-profile murder of a journalist was that of Georgiy Gongadze, founder of Ukrainska Pravda, whose decapitated body was found in a forest near the capital in 2000. A parliamentary commission ruled in 2005 that ex-President Leonid Kuchma organized Gongadze's kidnapping. Kuchma denies involvement.
President Petro Poroshenko called for an immediate investigation into Sheremet's death, saying the perpetrators must be punished. "It's a shock," he said on Twitter. "I don't have any other words. I knew him personally."
Specialists from the U.S.'s Federal Bureau of Investigation will join a Ukrainian task force set up to probe Sheremet's killing, police chief Khatia Dekanoidze told reporters after meeting Poroshenko.
"We're looking into all scenarios, primarily the one linked to his professional activity," Dekanoidze said. "We need to understand the motive."
Investigators are also looking into whether Prytula was the intended target, a spokeswoman for the Kiev Prosecutor's Office told TV channel 112. The police are providing her with bodyguards.
"We've lost a prominent and dedicated journalist," Dunja Mijatović, media-freedom representative for the Organization for Security and Cooperation in Europe, said by e-mail. "The safety situation for journalists in Ukraine must be addressed."
Before it's here, it's on the Bloomberg Terminal.
LEARN MORE