Cairn Energy Said to Be Victim of HSBC Currency Frontrunning
by , , and
Follows arrest in New York of senior HSBC trader Mark Johnson

'Ohhhh, f***ing Christmas, Johnson says in Dec. 2011 call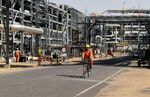 The unidentified victim at the center of the arrest of HSBC Holdings Plc executive Mark Johnson was Cairn Energy Plc, when the British oil explorer sold its Indian unit to Vedanta Resources Plc in 2011, according to people familiar with the transaction.
HSBC was commissioned to convert $3.5 billion of the sale proceeds into British pounds, according to court documents unsealed in New York. Johnson, HSBC's global head of foreign exchange cash trading in London, and colleague Stuart Scott, the former head of currency trading in Europe, used knowledge of the trade to front-run the order, making $8 million for the firm, the filings say. They profited by buying pounds and instructing colleagues to do the same, knowing that the exchange rate would spike after the transaction was processed.
An HSBC spokeswoman in London and a spokesman for Edinburgh-based Cairn declined to comment.
"Ohhhh, f***ing Christmas," Johnson said in a phone call with Scott at 2:28 p.m. in London on Dec. 7, 2011, after being told that Cairn had authorized the bank to buy 2.25 billion pounds.
For details on the arrest, click here.
The traders persuaded the company to execute the sale at the benchmark 3 p.m. WM/Reuters fix, rather than 4 p.m. fix, because the market was easier to manipulate at that hour, according to the filings. At 2:54 p.m. the traders discussed how high they could "ramp" the pound-to-dollar exchange rate before Cairn would "squeal."
The traders aggressively bought pounds before and during the fix in a manner designed to push up the U.K. currency against the dollar. That afternoon, the pound spiked to the highest in two days at 2:56 p.m. London time.
Minutes later, Scott told an unidentified adviser to Cairn that the transaction went "okay" and fraudulently attributed the spike in the pound to trading by a Russian bank, the filings say.
Johnson will appear in court Wednesday, according to prosecutors. He and Scott are the first individuals to be charged in a long-running probe into the manipulation of currency markets by the world's biggest banks.
Before it's here, it's on the Bloomberg Terminal.
LEARN MORE