Brexit Means What? It Depends Who in May's Government You Ask
By and
Hammond says passporting 'very important' while Davis ignores

Chancellor, PM and Brexit czar disagreed on Article 50 timing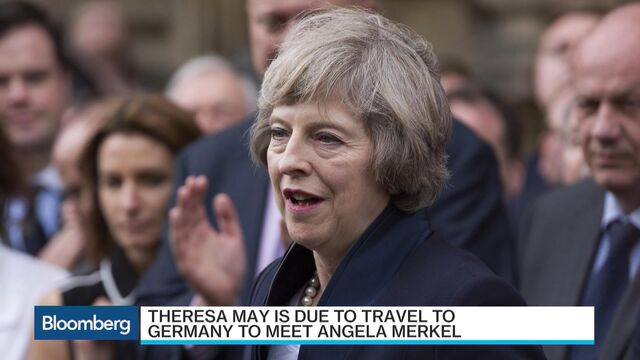 "Brexit means Brexit" has become Theresa May's catchphrase. What withdrawing from the European Union actually means is a matter of debate even within her team.
Just a week since May became U.K. prime minister, a review of recent comments from her and those she's tasked with negotiating the country's departure suggests some contradictions are already surfacing.
"We don't really know what version of Brexit they want," said Simon Hix, professor of political science at the London School of Economics.
When Will Formal Negotiations Begin?
May has said she doesn't plan to invoke Article 50 of the EU's Lisbon Treaty until 2017, after which the government will be racing against a two-year clock to wrap up a deal.
She has also ruled out proceeding until a "U.K. approach" has been formulated, signaling she would seek input from Scottish First Minister Nicola Sturgeon. A majority of Scots voted to stay in the bloc.

In an article for the Conservative Home website reissued the day after he entered the government, Brexit Secretary David Davis wrote that official talks could begin "before or by the beginning of next year."
Trade Secretary Liam Fox told the Sunday Times newspaper that "the date I'm working to" for leaving the bloc is Jan. 1, 2019. That would mean triggering Article 50 by the end of this year.
On the eve of being appointed Chancellor of the Exchequer last week, Philip Hammond promised a gathering of bankers that the government would "proceed as quickly and effectively as we reasonably can."
How to Maintain Access to the Single Market?
Hammond told LBC radio on July 14 that "the question is how we negotiate with the European Union, not from the point of view of being members of it, but from the point of view of being close neighbors and trade partners."
By contrast, both May and Davis see Britain beginning informal discussions before leaving the bloc, even though EU leaders such as German Chancellor Angela Merkel have said in public that they won't enter into such conversations.
May said during her leadership campaign that she would seek informal meetings, and is making trips to both Germany and France this week.
Davis told this week's Mail on Sunday newspaper that "we don't have to do any negotiations, just find out where their interests are. It's not the same thing."
How Important Is 'Passporting'?
Hammond said Tuesday that maintaining the right for financial companies such as banks to locate in the U.K. yet access the EU market would be a "very important part" of the Brexit talks. He said last week that he knew and understood "the importance of passporting."
The topic wasn't mentioned at all in Davis's article for Conservative Home.
What About Scotland?
May visited Edinburgh on her second full day in charge and said following talks with Sturgeon that she was willing to listen to "any options they bring forward." In an interview with the BBC, Sturgeon said that Scotland is "in a very strong position."
Davis was less warm, telling Sky News television that the Scots "can't have a veto because 17.5 million people have given us a mandate; they told us what to do. We can't disobey it."
Hammond told the BBC last week that there would be no separate deal for Scotland.