Brexit
Brexit Bulletin: When May Met Merkel
Here's what you need to know about Brexit today.
By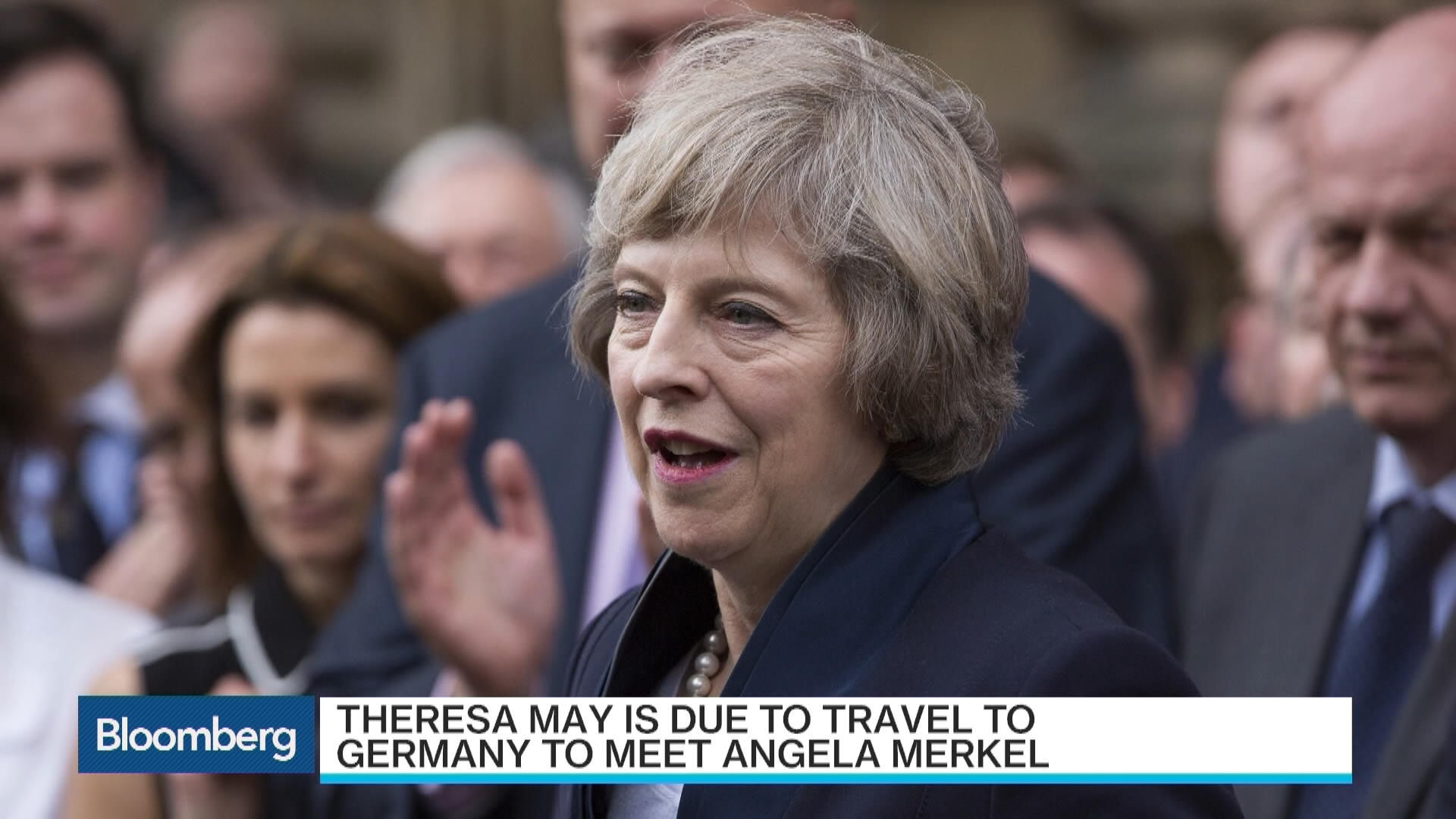 Sign up to receive the Brexit Bulletin in your inbox.
It's a big day for Theresa May. At lunchtime in London she makes her debut at Prime Minister's Questions in the House of Commons. She then travels to Germany to meet Chancellor Angela Merkel for the first time as British prime minister. 
Merkel, 62, will welcome May, 59, with full military honors at the Federal Chancellery in the German capital on Wednesday and then host a working dinner. A joint news conference is scheduled for about 6:15 p.m. in Berlin.
One thing that won't be on the menu? A Brexit plan to suit both the U.K. and European Union.
Merkel is willing to give May time to formulate her negotiating strategy, but she will hold firm about when the two sides can start talking.
The German chancellor, in office for almost 11 years, insists that no concrete negotiations will take place until the U.K. triggers the EU's exit clause, Patrick Donahue, Arne Delfs and Thomas Penny report.
One reason why the U.K. may not be in a hurry to trigger that exit is the bewildering array of rules governing EU and associate nations. Perhaps May's Brexit team are busy studying our helpful graphic? 

Business Didn't Plan for Brexit Either
It wasn't just the British government that failed to anticipate a "Leave" vote. Many companies are also struggling to figure out what the country's departure from the European Union will bring for them. 
Instead of tackling weighty strategic questions on their own, many are turning to accountants, consultants and lawyers, as Stephanie Baker and Donal Griffin report.
"It was such a shock to so many companies in so many industries that there is going to be an exit that they didn't have any contingency plans in place," said Karen Briggs, a senior partner at KPMG who was appointed head of Brexit at the accountancy firm, leading a team of 10 to 15 specialists who are advising clients. 
On the Markets
Update, 10.30 a.m. U.K. time: European shares are in positive territory for the day, heading for a four-week high after encouraging results from technology and auto companies.

Bloomberg's tracker of key post-Brexit indices shows that while the pound and a basket of U.K. homebuilders show significant declines since the June 23 vote, the FTSE 100 has since made strong gains and the FTSE 250 has clawed back most of its losses.
And Finally...
Spain wants Brexit-weary bankers and executives to swap London for Madrid. There's just one problem: It has no government, as Bloomberg's Charles Penty reports.
Spain's weather, pristine infrastructure, skilled workforce and a tax break dubbed the ''Beckham Law" may be a lure for international banks and law firms to consider moving there. Yet the country is handicapped by two elections in the past seven months that have left it no closer to forming a new government.
As a result the Economy Ministry is currently being a little vague in how it sells Spain, with "quality of life" a key plank of its promise to potential "Brexiles."
"For people to consider moving here, they need to know there's a corporate-friendly government, and we don't have one just yet," says Ricardo Wehrhahn, a Madrid-based banking and business consultant.
For more on Brexit follow Bloomberg on Twitter, Facebook and Instagram, and see our full coverage at Bloomberg.com
Before it's here, it's on the Bloomberg Terminal.
LEARN MORE