BOE Sees No Sharp Slowing Yet Even as Brexit Boosts Uncertainty
By and
Most firms don't expect to alter short-term investment, hiring

Unemployment fell to 11-year low of 4.9% in month before vote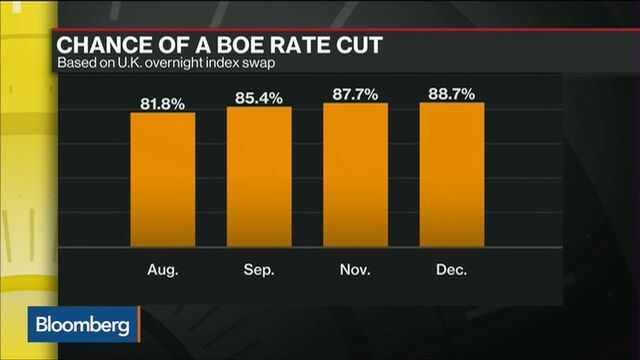 The Bank of England has yet to see evidence of a sharp economic slowing, even after U.K. businesses said the vote to leave the European Union had caught them by surprise.
While uncertainty rose "markedly" after the June 23 referendum, most firms did not expect to alter their investment or hiring plans in the near term, according to the BOE's Agents' summary of business conditions, based on information from a network of representatives across the U.K.
Still, around a third of contacts thought there would be "some negative impact" over the next twelve months, according to the BOE report. That tallies with a survey this week by manufacturing organization EEF, which said there has been little change in orders so far, though demand is expected to weaken over time.
Uncertainty since the vote has prompted Bank of England Governor Mark Carney to signal he's willing to boost stimulus early next month, while the International Monetary Fund on Tuesday slashed its U.K. outlook. The referendum's impact won't show up in official data until the middle of August, according to the Office for National Statistics, leaving the Monetary Policy Committee the dilemma of taking action without a complete picture.
Cloudy Outlook
Chancellor of the Exchequer Philip Hammond -- who this week said the BOE should be the first line of defense in response to Brexit -- said that the U.K. will adjust to the referendum decision "from a position of economic strength."
His comments followed the publication of data showing the unemployment rate fell below 5 percent for the first time since 2005 in the month before the vote. Employment rose to a record in the March-May period and wage growth remained above 2 percent.
Nevertheless, those numbers are from what Bloomberg Intelligence calls a "bygone era," with economist Dan Hanson predicting that Brexit will stop the U.K.'s "jobs juggernaut."
One visual impact of Brexit has been seen in the pound, which has dropped more than 10 percent since the June 23 vote. The BOE agents, who upped the intensity of their intelligence gathering after the referendum, said that was expected to boost export turnover, especially for manufacturers, over the coming year. But offsetting that, it could also mean higher costs for some industries and higher prices for consumers.
BOE Decision
"After really major events like an EU referendum, that's just the sort of time when the MPC call on their agents to work out what's going on, because even surveys and certainly hard data come out with a lag," said Chris Hare, an economist at Investec in London. "And for want of anything else, all you've got to go on are anecdotes and surveys, and it seems to me that most of the committee are going to take that as enough to move on policy." 
The MPC said last week that early signs showed the referendum had affected sentiment among households and companies, and businesses were beginning to delay investment or postpone recruitment.
The central bank said on Wednesday that there was "little evidence" of any Brexit impact on consumers, one of the key drivers of growth in recent years. Still, the agents said that confidence and spending were vulnerable should sterling's drop manifest itself in higher prices or if house prices drop.
"There were reports of a dip in housing-market sentiment in the days immediately following the referendum, but transactions had so far been more resilient than some contacts had expected," it said.
Separately, Markit Economics said that a gauge of the outlook for household finances fell this month to its lowest level in two and a half years. The group's overall index of household finances also dropped.
All of this will feed into policy makers' deliberations before their Aug. 4 decision, with differences already emerging among the nine officials. Martin Weale said Monday that he needs to see harder evidence of Brexit's effect before supporting additional stimulus. Other officials are more certain about acting pre-emptively, with Gertjan Vlieghe and Chief Economist Andy Haldane saying they'll vote for action at the next meeting.