Bears, Bulls and Ambivalence: Turkey's Turmoil Divides Big Money
by
BlackRock sees buying opportunity for debt as spreads widen

Buying 'not worth geopolitical risk,' Wells Fargo's Irwin says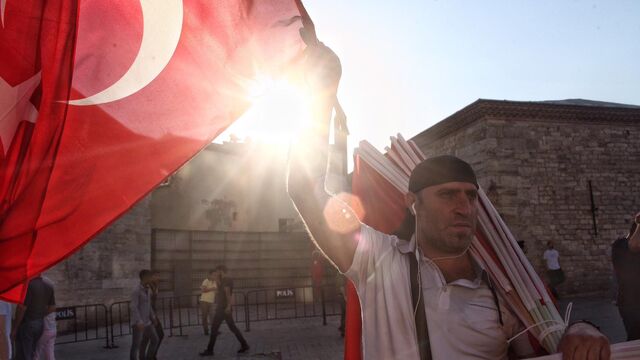 BlackRock Inc. says go for it. Deutsche Bank AG says wait and see. Wells Fargo & Co. says it's not worth the risk.
The failed military uprising that jolted Turkish markets has triggered an avalanche of views from global investors, but little consensus.
As the country's currency, bonds and stocks slide -- amid a surge in volatility -- following the attempted coup, here are some of the arguments.
Bearish Case:
1. Clouded Geopolitics: Wells Fargo
The attempted takeover led by a faction of Turkey's military on July 15 tested relations between the country and its western allies in the fight against Islamic State extremists in Syria and Iraq. President Recep Tayyip Erdogan's crackdown in the wake of the uprising prompted concern about the country's longstanding place in the North Atlantic Treaty Organization and eligibility for eventual European Union membership.
"There is a lot of long-term political uncertainty, and low valuations are not worth the risk," said money manager Derrick Irwin, who helps oversee $6 billion at Wells Capital Management in Boston and is underweight Turkish equities."We are not adding at this stage, and some assets are on a review for selling."
Wells Fargo portfolio strategist Brian Jacobsen turned underweight from neutral on Turkish assets in May as Prime Minister Ahmet Davutoglu resigned following a power struggle with Erdogan. He turned more bearish again on the nation's assets following the attempted coup.
2. Economic Hit: Credit Suisse Group AG
Turkey depends on capital inflows to finance a current-account deficit, and Erdogan's post-coup retaliation against his opponents stoked concern that foreign investment will drop.
Credit Suisse's Alexander Redman, who last month reiterated a 20 percent overweight stance on Turkish stocks, downgraded them this week to neutral amid concern over higher inflation and lira devaluation. London-based Redman now projects an 8 percent gain in the nation's equities through the end of 2016 and called the coup attempt a "confidence shock substantial enough to reduce the outlook on GDP."
The central bank pledged on Sunday to provide unlimited liquidity to lenders and support the lira by removing the limits on foreign-currency deposits that commercial banks are allowed to use as collateral. Goldman Sachs Group Inc.'s Clemens Grafe in Moscow revised his outlook on the currency to expect further losses.
Bullish Case:
1. Short-Term Buying Opportunity: BlackRock
Even though political and economic risks in Turkey will persist longer-term, a selloff in the lira and widening of yield spreads to U.S Treasuries this week will create a buying opportunity, according to BlackRock money managers Pablo Goldberg in New York and Sergio Trigo Paz in London, who help oversee more than $13 billion in emerging-market debt. The country "will follow Russia's model of political and economic stabilization" following geopolitical uncertainty, they said in a research note.
The selloff in equities created a buying opportunity for Brandes Investment's Gerardo Zamorano, who said by phone from San Diego that he added to his position in Turkish stocks this week.
2. Medium-Term Opportunity: Bank of America Corp.
Turkish debt may be a buying opportunity for Bank of America's David Hauner, though not just yet. The spread to Treasuries will widen 50 basis points for the nation's hard-currency bonds and twice as much for local-currency instruments in the next two to three months, Hauner said. Assets may slide in anticipation of Moody's Investors Service's review of the country's credit rating for a potential downgrade, creating a buying opportunity, he said. The assets may start recovering around October, he said.
"The Moody's review is probably more important than the coup itself, from an investment standpoint," Hauner, who late last year correctly predicted a rebound in Russian equities, said by phone from London. "Even though Turkey has a lot of ups and downs from geopolitical risks, there is not a lot of divergence from emerging markets."
Wait and See:
Strategists and portfolio managers at Aberdeen Asset Management Plc and Deutsche Bank say they need more time before making calls on Turkish assets.
The unrest created a temporary shock that will have no major macroeconomic impact, Deutsche Bank analysts including London-based Kubilay Ozturk said in a note to clients. They anticipate weakness in the lira but said it's difficult to project the extent of a selloff. They remain constructive on Turkish bonds.
"Unless we see a dramatic deterioration in the situation in Turkey, we will not see a long-lasting selloff," Aberdeen's Viktor Szabo, who is neutral on Turkish bonds and negative on the currency, said by phone from London. "Turkey is a mixed bag of strong fundamentals and a deteriorating geopolitical situation."
Before it's here, it's on the Bloomberg Terminal.
LEARN MORE