Watch Ronaldo for Free as Telefonica Shreds Spanish TV Playbook
by
Carrier adds soccer in basic TV packages with no extra charge

Orange, Vodafone left vulnerable as battle for users heats up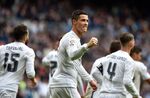 After Portugal took the crown of European soccer champion this month, a fresh battle over the world's most-watched sport is brewing across the border in Spain.
Telefonica SA, the biggest phone and pay-TV carrier in the home country of Real Madrid and FC Barcelona, is adding the sport in its basic packages with no extra charge, which will lower bills for customers who used to pay extra for games. That's left rivals Orange SA and Vodafone Group at a disadvantage and vulnerable to customer losses -- and analysts are projecting a bitter fight for market share.
Soccer is the main way to attract viewers in the country of about 46.5 million that follows the performances of stars Ronaldo and Lionel Messi with religious fervor, which is why Telefonica agreed to pay $2.6 billion for rights to the sport in the latest auction. By now omitting the extra charges for soccer, the company is upsetting a market that has so far avoided fierce price wars prevalent elsewhere in Europe.
"It's a move that we believe will be followed by the competitors," Javier Mielgo, an analyst at Mirabaud & Cie, said by phone from Madrid. "It's a way to spread out the high cost of soccer rights among all the TV customers."
Under a new pricing model being introduced in August, Telefonica's basic Fusion packages that cost as little as 70 euros ($77.50) a month will include most of the Spanish league games. Until now, customers had to pay as much as 25 euros a month in additional fees for soccer.
For now, Orange and Vodafone continue to charge extra for the sport and representatives for the companies declined to comment. Telefonica representatives wouldn't elaborate on reasons behind the price adjustment.
Spanish phone carriers have thus far avoided price wars that have plagued markets such as France, helped by customers embracing packages that bundle broadband, TV, landline and wireless devices -- and access to live soccer on the different platforms has fueled demand. Until now, Spain has had the "best big market in Europe" after a series of "rational price moves" over the past two years, according to Citibank Inc.
The new pricing model won't necessarily reduce average monthly bills either. That's because, while not charging extra for soccer, Telefonica is raising the price of all Fusion packages by 2 euros to 5 euros, taking the most expensive one to up to 85 euros. So, while those who used to pay extra for soccer will now pay less, they'll be subsidized by Telefonica's other pay-TV customers.
Telefonica had 4.2 million Fusion clients as of March 31. The company doesn't disclose how many paid extra for soccer.
As the former phone monopoly and biggest operator in Spain, Telefonica has for years set the pace for pricing and marketing, even more so after it became the country's largest pay-TV operator with the acquisition of DTS last year. In January, Telefonica agreed to pay 2.4 billion euros for exclusive rights to Spanish soccer and the European competitions for the next three seasons.
However, Spanish regulators subsequently stepped in to make the rights available to Orange and Vodafone too. A key difference is that while Telefonica paid a fixed, publicly disclosed sum for the rights, the price paid by its rivals wasn't made public. That makes it harder to assess how they might respond.
The new plan is a positive for Telefonica, and could help the company's Spanish unit return to earnings growth, said Stephane Beyazian, an analyst with Raymond James.
"To see that they can pass on the cost of football to customers is reassuring from the financial" point of view, Beyazian said by phone.
Before it's here, it's on the Bloomberg Terminal.
LEARN MORE