Vietnam Rebukes China for 'Untruthful' Reports on Sea Ruling
by , , and
Country disputes accounts saying premier respects China view

China claims nations support its stance on South China Sea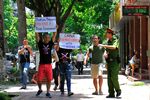 Vietnam criticized as "untruthful" Chinese state media reports that Prime Minister Nguyen Xuan Phuc respected his Communist neighbor's position on last week's landmark South China Sea ruling and was interested in advancing two-way talks on the disputed waterway.
Phuc told Chinese Premier Li Keqiang in Mongolia last week that he didn't endorse China's stance on the international tribunal's ruling, the Vietnamese government said in a statement late Monday. Phuc reiterated Vietnam's welcoming of the court's decision, which found no legal basis for China's claim to "historic rights" to resources in the area.
Vietnam "declares it refutes untruthful coverage by Chinese media regarding the East Sea issue from the meeting" between Phuc and Li, the government said, using Vietnam's preferred term for the South China Sea.
The Vietnam rebuke comes as China touts what it says are dozens of international backers for its stance on the South China Sea, as it seeks to show at home it has widespread support after the ruling went against it. It highlights the difficulty for China in walking a line between President Xi Jinping's "neighborhood diplomacy" and in continuing its assertions to sovereignty -- and its military buildup -- in the waterway. The risk now is China receives further public rebuttals.
'Stands Ready'
China's official Xinhua News Agency on Thursday cited Phuc as saying "Vietnam respects China's stance on the arbitration" and that "Vietnam stands ready to push forward the mechanism of bilateral maritime negotiations and properly manage differences with China, so as to contribute to regional peace and stability."
While the ruling resulted from a Philippines challenge, Vietnam has been a critic of China's overlapping claims to more than four-fifths of the South China Sea. The Vietnamese statement follows remarks by other governments criticizing official Chinese sources for misrepresenting their remarks over the South China Sea case.
China's Foreign Ministry said July 9 that Sri Lanka "understands and applauds" China's stance on the waterway, citing a meeting between the countries' foreign ministers in Colombo. But Sri Lankan Prime Minister Ranil Wickremesinghe said in an interview in Singapore on Sunday that use of "applaud" was not correct. "We understood, I think they just corrected to say we understood."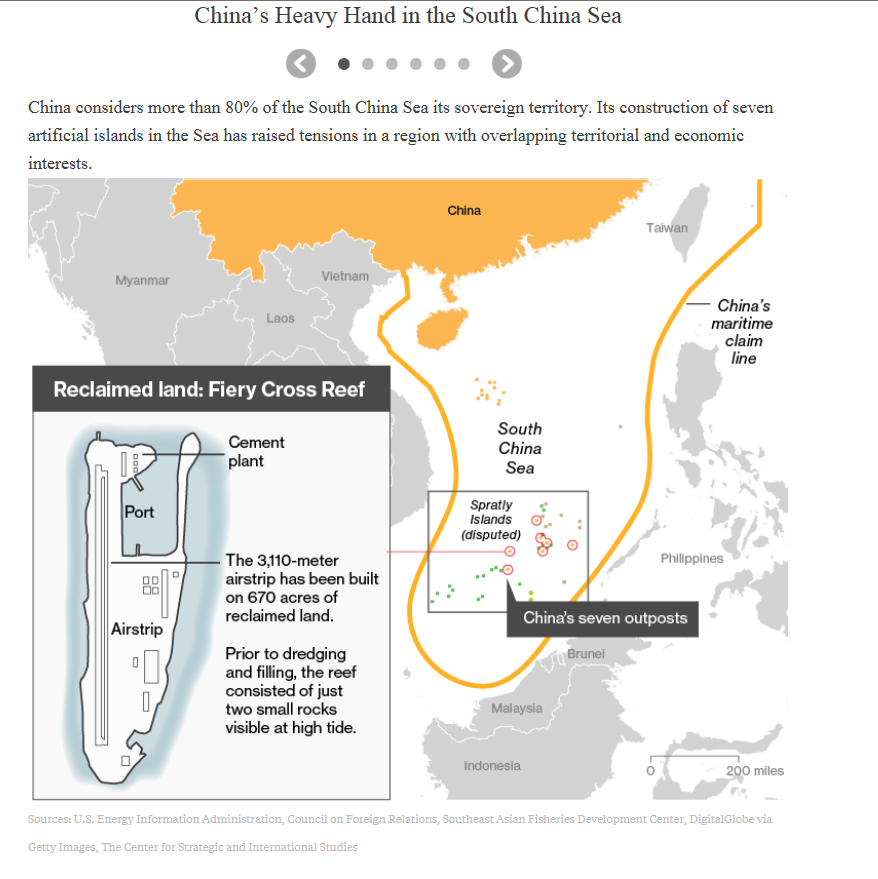 Fiji issued a statement in April rejecting another Chinese ministry release asserting support from the tiny South Pacific nation. Cambodia, Poland and Slovenia have also denied Chinese claims of backing, according to the Asia Maritime Transparency Initiative, a unit of the Washington-based Center for Strategic and International Studies.
India, whose support China also claimed, published a statement on the day of the ruling "urging all parties to show utmost respect" for the United Nations Convention on the Law of the Sea.
The diplomatic dust-ups over language are among several repercussions as the region digests the ruling, which China has rejected as unfair and motivated by U.S. efforts to rally allies against the rising power. China has welcomed Philippine President Rodrigo Duterte's offer for two-way talks on their sea disputes.
For an explainer on China's maritime assertions click here
Still, Philippine Foreign Affairs Secretary Perfecto Yasay rejected Chinese Foreign Minister Wang Yi's position that any bilateral negotiations must disregard the tribunal's ruling. That was "not consistent with our constitution and our national interest," Yasay told the ABS-CBN News Channel.
Zhao Qizheng, former chairman of the foreign affairs committee of China's top political advisory body, said some countries "might be in a pickle and under huge pressure after China's Foreign Ministry identified their support by name."
"It's understandable," Zhao said at a briefing on Tuesday in Singapore. "But I hope countries can to be sincere with each other."
Indonesia, which is not a claimant in the South China Sea but whose navy is coming into closer proximity with China's fishing boats and coast guard in the Natuna Island area, plans to blow up 71 fishing boats to mark its independence day on August 17, including three from China, the Jakarta Post reported. Indonesia has accused China of treating its fishing waters as its own.
Combat Patrol
For now China has said it has no plans to curb its actions. Its air force recently conducted a combat air patrol in the South China Sea, an exercise that will become a "regular" practice, Xinhua reported Monday. China will also conduct drills off its island of Hainan.
China faces its own internal issues over the ruling. Protests took place outside KFC restaurants in at least 11 cities over the last few days, reported Chinese online news outlet Sohu News. These included Hunan province's Changsha city and Zhejiang province's Hangzhou city, where the G-20 summit is planned for September. Yum Brands Inc., which owns KFC, did not immediately respond to Bloomberg queries.
Pictures and videos posted on social media showed protesters carrying banners calling for boycotts of American, Japanese and Filipino goods, and for KFC and McDonald's Corp. to "get out of China". Law enforcement officers were seen surrounding them.
Chheang Vannarith, Phnom Penh-based chairman of the Cambodian Institute for Strategic Studies and a former government adviser, said Cambodia would probably remain sympathetic to China's position on the sea disputes, but must also take into account the views of the other nine members of the Association of Southeast Asian Nations.
Cambodia in the past has been accused by other nations of responding to lobbying by China to veto the prospect of unified Asean statements being issued on the matter. Asean operates on a consensus basis.
"China must acknowledge this is a disputed area," he said. "We need all to accept this is a disputed area. It's not China, but all of the other claimants have their own unilateral map."
Before it's here, it's on the Bloomberg Terminal.
LEARN MORE