U.S. ELECTION WRAP: Ryan, Two Trump Kids Up Amid Melania Fallout
A plagiarism controversy hung over day two of the Cleveland convention.
By and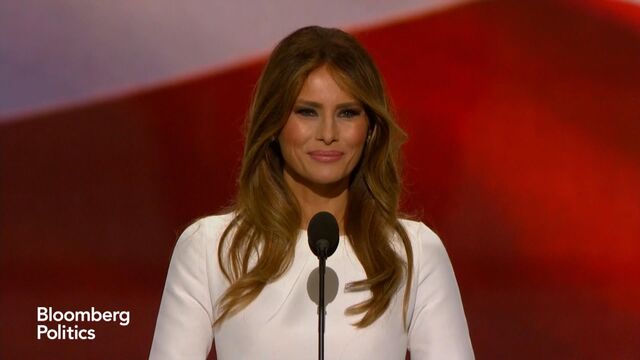 House Speaker Paul Ryan, N.J. Gov. Chris Christie, Donald Trump Jr. and his half-sister Tiffany Trump are among the speakers at tonight's Republican National Convention following a firestorm triggered by Melania Trump's opening-night speech.
Controversy hung over Day Two of the GOP gathering in Cleveland because of similarities between passages in the speech by Donald Trump's wife and Michelle Obama's address to the 2008 Democratic convention

"If this were a movie script or a commercial piece of music, it would be grounds for a copyright infringement lawsuit," Noam Neusner, former speechwriter in President George W. Bush's White House, said in an interview about the allegations of plagiarism
"What's incredible is that the original language in the Obama speech wasn't terribly interesting," said Neusner, now co-principal of communications firm 30 Point Strategies. "Perhaps the Trump people thought they could borrow bland language and nobody would notice. But people noticed pretty fast."

Trump campaign chairman Paul Manafort told the Associated Press "nobody believes" Melania Trump plagiarized her convention speech; while there were a "few words" in common with Michelle Obama's speech, they weren't "unique words," he said

He termed the flap "totally blown out of proportion"
Democratic National Committee Chair Debbie Wasserman Schultz, commenting in Cleveland, said "Melania Trump comported herself well on the stage" last night. "The Trump campaign should be held accountable for the contents" of the speech, she told reporters

Republican National Committee Chairman Reince Priebus told a Bloomberg Politics breakfast at the convention that if it were up to him, he would "probably" fire Melania Trump's speechwriter
Trump's former campaign chief, Corey Lewandowski, got more specific, saying that Manafort, who nudged him out in a power struggle, should step down if he was the last one to review the speech, Politico reported

"I agree with Reince Priebus, whoever wrote the speech should be made accountable and fired," said Lewandowski, who was fired as Trump's manager last month; he is now a political commentator for CNN

"When I was the campaign manager, the buck stopped with me, and I'm sitting here with CNN now"
White House spokesman Josh Earnest said he's going to mostly let others weigh in on the matter; on whether Michelle Obama has an opinion on issue, Earnest said he would let the first lady "speak for herself"
President Obama didn't watch last night's GOP convention; he likely was working in the private residence and had sports on, not politics, according to Earnest, Bloomberg's Angela Greiling Keane reported
Neusner said last night's speech looks like a "careless cut-and-paste job at the very least," in which someone "forgot which part was 'original' and which part was newly added or moved around"

"In the end, they lost sight of the most important thing in a speech: It should be original."
"I doubt highly that Melania was involved in drafting the speech," he said. "It showed very little personal touch—no personal stories about" Donald Trump "as a father or a husband or anything"
The matter shows "sloppy staff work" and a "recklessness or amateurishness": Neusner

As for the presumptive nominee, he's "furious" about the contretemps, two unidentified people told CNN
See The Atlantic's "Ten Reasons Why Melania Trump's Speech Will Have a Lasting Impact"
Bloomberg's Sahil Kapur looks at how the firestorm is just the latest plagiarism snafu for the Trump campaign

Click here to get the U.S. Election Wrap by e-mail every afternoon

GOP CONVENTION DAY TWO
Today's theme is "Make America Work Again"; along with Ryan, Christie, 38-year-old Trump Jr. and Tiffany Trump, 22, others in the spotlight include Ben Carson, who quickly allied himself with Trump after his own presidential bid flamed out, Wisconsin Senator Ron Johnson, one of the GOP's most vulnerable incumbents in November, and Senate Republican Leader Mitch McConnell

See full list of speakers here

When Ryan addressed his home-state delegation Monday morning, two words didn't cross his lips: Donald Trump

That will be harder to do tonight, in the latest scene in Ryan's uneasy embrace of the polarizing New York billionaire, Bloomberg's Billy House reported

Ryan, speaking at a Wall Street Journal luncheon yesterday in Cleveland, said Trump isn't his "kind of conservative," yet Republicans need to get behind him as their nominee

On why he endorsed Trump: "What I do know for sure is if we disunify, then we hand the left the country by default for another four years. I just don't want to be a party to that. I don't want to be complicit to that."

At least 30 people in and around this week's GOP convention will be wearing bulletproof vests sold from Tom Nardone's suburban Detroit warehouse, according to Bridge Magazine, a publication of the bipartisan centrist think tank Center for Michigan

Nardone's BulletSafe vests go for $299, and in the past week he's sent two shipments to Cleveland

Anti-nausea meds also might sell well, as the Sacramento Bee reported that the highly contagious norovirus hit about a dozen California GOP staff members and volunteers who are in Ohio for the convention

Norovirus inflames stomach and intestines, causes diarrhea and vomiting; isn't fatal

When GOP delegates conduct a roll-call vote tonight that should make Trump's nomination official, Ohio Governor John Kasich will be holding his own separate event, Politico reported

The venue? The U.S. Hispanic Chamber of Commerce

BIG BANKS
The convention's delegates approved a platform yesterday that includes a call for reinstating the Glass-Steagall Act and scaling back the Dodd-Frank financial-regulation overhaul, calling it the Democrats' "legislative Godzilla"
While the Dodd-Frank overhaul is no surprise, the push to bring back Glass-Steagall drew attention
Tony Fratto, former assistant Treasury secretary in President George W. Bush's administration, told CNBC the push to bring back the Depression-era law that separated commercial and investment banking and was repealed under President Bill Clinton is a "desperate" move by the Trump campaign

The Trump camp believes the issue can bring in Bernie Sanders supporters, he said, but those voters don't just have a problem with Wall Street, they "hate" Trump on a whole range of issues: Fratto
"You aren't going to out-Warren Elizabeth Warren," he said, referring to the Democratic senator from Mass. It's "pure fantasy"

See more from Fratto on the GOP platform plank here

TREASURY WATCH
Trump has told prospective donors that if elected president, he intends to nominate former Goldman Sachs banker Steve Mnuchin for U.S. Treasury secretary, Fortune reported, citing hedge-fund manager and Trump fundraiser Anthony Scaramucci

Mnuchin is a former donor to Hillary Clinton; spent 17 years with Goldman Sachs; he became the Trump campaign's national finance chairman earlier this year

VEEPSTAKES
Agriculture Secretary Tom Vilsack has moved into the top tier of Hillary Clinton's possible VP picks, Politico reported
Other hot prospects are Virginia Senator Tim Kaine, Labor Secretary Tom Perez
Clinton told Charlie Rose in a CBS News interview she has no problem with Kaine being perceived as boring

"I love that about him," she said. "He's never lost an election."

ON THE TRAIL
Clinton, at an AFSCME convention this afternoon in Las Vegas, called the GOP's opening night in Cleveland "surreal" and compared Trump making his appearance on stage amid manufactured fog to "Wizard of Oz," Bloomberg's Jennifer Epstein reported

"There were similarities that appeared to me," Clinton said. "Lots of sound and fury, even a fog machine. But when you pull back the curtain it was just Donald Trump with nothing to offer to the American people."

ENDORSEMENTS
Unite Here union, which represents 270k North American workers in industries including lodging, gaming and food service, endorsed Clinton for president

POLLS
Clinton leads Trump by 12 ppts, 47%-35%, in N.Y. state, according to Quinnipiac University poll

In NYC, Clinton leads Trump 63-20%; upstate, Trump leads 48-36%; suburbs are divided, 40% for Trump and 39% for Clinton
July 13-17 poll of 1,104 N.Y. voters has error margin of +/- 3 ppts
President Obama won N.Y. and its 29 electoral votes in 2012 against Mitt Romney, 63%-35%

ETC
If Iowa Senator Joni Ernst is irked about getting bumped from prime time at last night's convention, she's not letting on, Bloomberg's Jennifer Jacobs reported

More than half the delegates had left the convention hall before Ernst spoke after 11 p.m., leaving her faced with a sea of empty chairs
"The people that really matter were the Iowa delegation and they stayed with me for the entire evening," she said of her home-state colleagues
Republican Iowa Governor Terry Branstad wasn't as serene about the matter, telling reporters that he wanted to give the long-winded speaker ahead of Ernst, Retired Lieutenant General Michael Flynn, the hook
One Iowa GOP strategist told Bloomberg that the exodus of so many delegates after Melania Trump spoke suggests their interest is more about a cult of personality than the Republican Party

Ernst said she was required to submit her own speech to convention organizers as well as the Trump campaign for review

There were "minor edits,'" but Ernst said she has "plenty of leeway" to craft her own words

Ex-President George W. Bush told aides he's worried he might be the last Republican U.S. president, according to Politico

He made the comment at an April reunion for his former White House staff that included former Vice President Dick Cheney

Donald Trump appearing on stage in Cleveland last night with the song "We Are The Champions" playing in background was "an unauthorized use at the Republican Convention against our wishes," rock band Queen said in Twitter post

Republican National Convention paid to license the use of the song, RNC strategist Sean Spicer countered

CONGRESSIONAL RACES
CA-SEN: Obama endorsed Democratic state Atty. Gen. Kamala Harris in a statement saying she's a "lifelong courtroom prosecutor with only one client: the people of the state of California," AP reported

Harris faces Democratic Rep. Loretta Sanchez in general election for seat of retiring Democrat Barbara Boxer

FL-SEN: Senate Majority PAC, Democratic super-PAC, released TV ad highlighting White House endorsement of Democratic Rep. Patrick Murphy

Murphy faces Democratic Rep. Alan Grayson in Aug. 30 primary; Republican Sen. Marco Rubio and developer Carlos Beruff are main contenders in GOP primary
Ad uses b-roll footage posted on Murphy's campaign website; while campaigns can't coordinate spending decisions with super-PACs, they're permitted to post supplementary video as signal to outside groups

NV-SEN: League of Conservation Voters Victory Fund initiated $750k ad campaign against GOP Rep. Joe Heck with TV spot linking him to "Big Oil" interests/billionaire businessmen David and Charles Koch

Ad refers to Heck's vote in 2011 against amendment by Mass. Democrat Ed Markey that sought to recover royalty payments from oil companies drilling on public lands
Ad also refers to Heck's vote last Dec. against $1.1 trillion compromise spending measure that extended solar/wind energy tax credits and ended ban on most U.S. crude oil exports
Heck said he voted against spending bill in part because it increased discretionary spending without including enough for national defense
LCV backs Democrat Catherine Cortez Masto, former state Atty Gen., for seat of retiring Minority Leader Harry Reid

OH-SEN: As GOP convention began yday in his home state, Republican Sen. Rob Portman "has chosen to be present without being too present" as he seeks re- election, National Review reported

Portman worked on Habitat for Humanity project, held "volunteer appreciation" event yday; said events were long scheduled and not designed to avoid convention
Trump would "be a much stronger president" than Clinton, "and that's the choice," Portman said
Ex-Gov. Ted Strickland, Portman's Democratic opponent, said at press conference that incumbent "would be publicly embracing" Trump and "would be showing up at this convention" if he felt presumptive presidential nominee was asset to his re-election

FL-18: Republican Brian Mast, military veteran who lost both legs in Afghanistan, in TV ad said he's "ready to lead the fight against radical Islamic terrorism" after serving "without regard for personal gain and without regard for personal sacrifice"

Mast shown in ad with his prosthetic legs
Mast among six Republicans running in Aug. 30 primary for Murphy's southeastern district

NJ-05: Democrat Josh Gottheimer narrowed financial gap with GOP Rep. Scott Garrett, beginning July with about as much in his campaign account as the incumbent, NJ.com's Jonathan D. Salant reported

Gottheimer had $2.5m cash-on-hand after raising $577k in six-week period ending June 30; donors included PACs of AT&T Inc., Verizon Communications Inc., NJ-based Johnson & Johnson
Garrett had $2.8m cash-on-hand after raising $235k during reporting period; donors included PACs of American Bankers Assn and Financial Services Roundtable
District has slight Republican lean, includes most of Bergen County near NYC

NY-24: GOP Rep. John Katko says in first TV ad he's had "great success, passing more bills than any first-term member from either party"

Katko seeking re-election against Democrat Colleen Deacon in Syracuse-based district that leans Democratic

TN-04: GOP Rep. Scott DesJarlais released TV ad describing primary opponent Grant Starrett as "28-year-old California trust fund millionaire" who moved to district last year

Starrett released 15-second spot accusing DesJarlais of voting for "hundreds of millions of Obama's military cuts" as U.S. is under attack by "radical Muslims"
Ad refers to DesJarlais's votes in 2015 for amendments by Md. Democrat Chris Van Hollen and S.C. Republican Mick Mulvaney to curb what they saw as excessive use of Overseas Contingency Operations war-fighting funds exempt from budget caps
Primary is Aug. 4 in south-central district that includes Murfreesboro

WA-07: Democrat Joe McDermott released TV ad featuring women who praised his work on King County Council to protect public health clinics

McDermott holds large gun and says he'll "take on the NRA" in Congress to ban so-called "assault weapons"
McDermott in crowded field seeking Seattle-based dis
Before it's here, it's on the Bloomberg Terminal.
LEARN MORE