U.K. Chancellor Says No Fiscal Moves Before Year-End Statement
by
Hammond makes first appearance in Parliament since taking over

Initial response to Brexit must come from Bank of England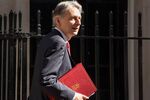 The new U.K. chancellor of the exchequer, Philip Hammond, said he'll wait until his end-of-year policy statement to Parliament before announcing any new tax and expenditure measures following Britain's vote to leave the European Union.
"I have no plans to reverse the spending plans set out by my predecessor at the moment; any such plans will be set out in the Autumn Statement," Hammond told lawmakers in London on Tuesday. "As further post-referendum economic data is published, the short-term response of the economy to the Brexit decision will become clearer, and if further measures are required, they will be announced in the Autumn Statement," he said. The chancellor usually sets out his policy in late November or early December.
Hammond, who was making his first formal appearance in the House of Commons since replacing George Osborne as chancellor, said the British economy is "well-placed" to respond to the "shock" of the Brexit vote, which has seen the pound plunge and consumer confidence drop to a 21-year low as the U.K. prepares to navigate a split from its biggest trading partner.
The chancellor said that he's coordinating on the response to the referendum result with the Bank of England, which voted to hold its key interest rate at a record low of 0.5 percent last week.
"The initial response to this kind of a shock must be a monetary response
delivered by the Bank of England," Hammond said. BOE Governor Mark Carney, "in announcing that interest rates were not to be lowered last week, did make it clear that the bank is developing a monetary package that it will announce in due course," Hammond said.
Before it's here, it's on the Bloomberg Terminal.
LEARN MORE