Turkey's Lira Falls as Policy Makers Slow Pace of Rate Cuts
By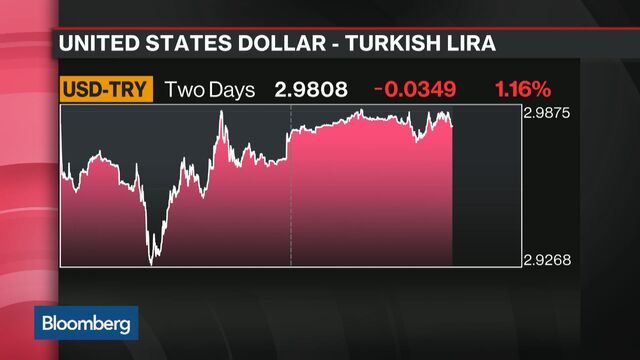 Turkey's lira declined after policy makers slowed the pace of interest-rate cuts.
The currency fell 0.2 percent to 2.9823 per dollar at 2:03 p.m. in Istanbul as the central bank lowered the overnight-lending rate by 25 basis points to 8.75 percent, in line with expectations. Policy makers cut the rate by 50 basis points at each of its last three meetings.
Even though attempts to overthrow President Recep Tayyip Erdogan's government were thwarted, they fueled concern about the nation's security and the longer-term implications for the economy. Turkey's lira fell the most in eight years when the coup erupted in the final hours of trading last week. It rebounded Monday as local investors took advantage of the slump.
Moody's Investors Service has put Turkey's debt on review for a possible downgrade to "assess the medium-term impact" of the failed coup on the country's growth and policy-making institutions. The credit rating agency holds the nation's debt at Baa3, one level above junk.
The central bank has cut its overnight lending rate -- the top end of its interest rate corridor -- by 200 basis point this year as it simplifies monetary policy. It left its overnight-borrowing rate and one-week repurchase rate unchanged at 7.25 percent and 7.5 percent, respectively.