Turkey Cuts Overnight Lending Rate Following Failed Coup
by
Central bank lowered rate by 25 basis points to 8.75 percent

Bank's one-week repo and overnight borrowing rates maintained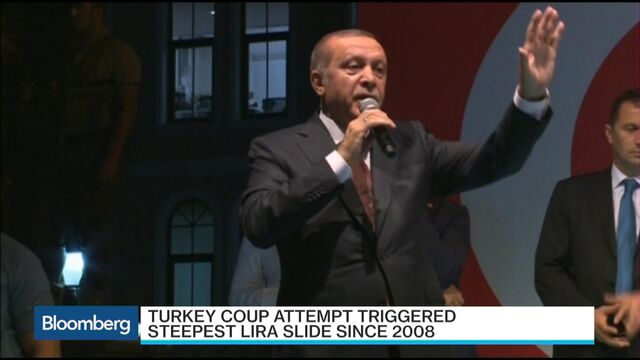 Turkey's central bank cut its overnight lending rate by a quarter point, slowing the pace of borrowing cost reductions after the weekend's failed coup attempt that roiled markets.
The bank lowered the rate to 8.75 percent -- the fifth reduction to one of its three key rates in as many months -- matching the median estimate in a Bloomberg survey. The one-week repurchase and overnight borrowing rates were kept at 7.5 percent and 7.25 percent, the bank said in a statement.
Several economists in the Bloomberg survey revised their predictions after a failed coup attempt last week triggered a sell-off in the currency and sovereign debt, taking the median forecast to a quarter-point cut in the overnight rate instead of 50 basis points previously. In an attempt to calm investors, the central bank has promised unlimited liquidity to lenders to mitigate the potential impact on financial markets.
The bank opted for a "measured and cautious step" following recent volatility in financial markets caused by "domestic developments," it said in the statement. The bank also lowered the cost of emergency lending, called the late liquidity window, by 25 basis points to 10.25 percent.
The lira gained 0.1 percent to 2.9732 per dollar at 2:31 p.m. in Istanbul.
Before it's here, it's on the Bloomberg Terminal.
LEARN MORE