The Police Love-In Outside the RNC
How the tragic shootings in Dallas and Baton Rouge completely recalibrated the atmosphere in Cleveland.
By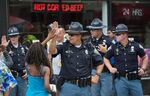 Inside Quicken Loans Arena, the 2016 Republican National Convention is a chaotic morass of screaming delegates, allegations and denials of plagiarism and speakers with various veins popping out of the middle of their foreheads. It's a madhouse in there.
But it is worth noting that this is not what is happening outside Quicken Loans Arena. For all the fears of wild protests, gangs of Trump supporters on motorcycles swinging baseball bats and vague images of Mad Max Beyond Thunderdome, the city of Cleveland has mostly been peaceful and calm and chill. Many protest groups, including the Cleveland chapter of Black Lives Matter, announced that they would be sitting this convention out in the wake of the police shootings in Dallas and Baton. It should also be noted that it's only Tuesday, and historically protests tend to amp up as the Thursday keynote draws closer. But the main reason for the calm seems to be that there are police everywhere—and people will not stop hugging them.
The increased police presence here was well-advertised beforehand—but it's still difficult to overstate just how many cops there are in this city. The Cleveland PD called for departments from around the country to assist, and that call was heeded: The California Highway Patrol sent hundreds of officers and I've seen officers from Austin, Indiana, Pittsburgh and Miami. (The Indiana contingent was on horseback—did they ride here, I wondered.) These officers are not authorized to make arrests—they can only detain suspects until Cleveland PD arrives—but the effect is overwhelming. The police appear to outnumber not only the protesters, but the attendees.
But the feel is not that of a police state. You can't walk a block without someone stopping to shake a cop's hand, or thank him for his or her service, or, yes, give them a hug. Police officers will never be more popular than they are right here, right now. This is Cop Woodstock.

This is particularly true because, all told, there is not that much here for all these extra cops to do. Protesters have backed off out of both fear of escalating a hothouse situation and genuine sympathy for grieving police, so in many ways, the job here for cops is to be congratulated. Ironically, the busiest I've seen any cops was at the Alex Jones rally on Monday afternoon, where Infowars operatives, always on the lookout, kept flagging down cops to point out stray backpacks. Most of these backpacks were roughly three feet or less from their immediately apologetic owners, but it at least gave the cops something to do. It was fitting, in a certain way, that the most raucous, energetic gathering of the first two days of the convention was a right-wing gathering.
Police, inevitably, have become the event's indispensable accessory—no public appearance is complete without a phalanx of officers. At an event (co-hosted by Bloomberg Politics) at bigshot Cleveland law firm Jones Day on Monday, firm partner Chris Kelly came out to introduce a panel featuring conquering Cleveland Cavaliers owner Dan Gilbert, flanked by around 15 uniformed police officers. Why were the police there? There might not have been a safer place on the planet than the law offices of Jones Day; they practically gave me a retinal scan just to get in the building. Before his prepared remarks, Kelly called for the crowd to give the officers a standing ovation, which the audience happily did. Then he went into his remarks, and the officers shuffled out the back door. It felt like how every politician had a firefighter within arm's reach in the months after September 11.

To cops, accustomed to a different kind of reception, all this love can seem perplexing. At one point on Sunday, a middle-aged African-American man wearing a "HILLARY FOR PRISON 2016" shirt walked up to a white female cop and grabbed her left arm. "I'm sorry," he said, hugging her. She smiled and said thank you, and he went on. "The Democrats, you know, that's who's killing you all," he said, as her smile loosened, just a little. "They hate you. That's why they're killing you." Shouts of "you know it" surrounded them both, and the police officer grimaced a bit, gritted out one more "thank you" through her teeth and moved on. Last I saw her, someone else was hugging her a few feet away.
   
—Will Leitch reports for Bloomberg Politics on the intersection of politics and media.
Before it's here, it's on the Bloomberg Terminal.
LEARN MORE