SoftBank's Son Asks Worried Debtholders to Feel the Force on ARM
by
SoftBank 5.375% bond yield jumped most since issuance Monday

Have to be more conscious of risk after ARM deal: Asahi Life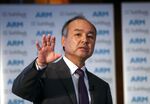 SoftBank Group Corp. billionaire founder and chief executive officer Masayoshi Son said now is the best time to buy his company's debt. Investors digesting its planned $32 billion acquisition of ARM Holdings Plc aren't so sure.
"Yoda said in Star Wars, listen to the Force," Son said on a call with analysts Monday, adding that the firm's debt position will be little changed following the purchase of ARM after asset disposals in recent months are expected to generate about $18 billion. "If you listen to the Force, this is the best company to invest in the debt."
In a sign investors may think otherwise, the yield on SoftBank's 5.375 percent U.S. dollar bonds jumped 30 basis points Monday, the biggest increase since the notes were sold in July 2015, to 4.35 percent, according to prices compiled by Bloomberg. SoftBank, which is rated non-investment grade by both S&P Global Ratings and Moody's Investors Service, had 11.9 trillion yen ($112.1 billion) debt at the end of March.
"What we were worried about has occurred," said Yoshihiro Nakatani, a senior fund manager at Asahi Life Asset Management Co. in Tokyo. "This is a large M&A so from a corporate bond investor perspective, we have to be more conscious than ever of the higher risk. I expect the spreads on SoftBank's bonds to widen from today."
For a primer on SoftBank's growth engines, click here.
The ARM purchase will result in SoftBank's net debt to earnings before interest, taxes, depreciation and amortization rising to 4.6 times from 3.9 times at the end of March, according to calculations from SMBC Nikko Securities Inc. in a report Tuesday.
SoftBank's probability of debt non-payment within one year rose to 0.5282 percent from about 0.25 percent a year earlier, according to the Bloomberg default-risk model, which considers factors such as share prices and debt. The gauge suggests the company is at the highest non-investment grade rating, down one level from last month. Its shares dropped as much as 11.3 percent to 5,329 yen in Tokyo Tuesday, and declined the most in a single day since 2012.
Son dismissed concerns about the company's debt pile on a call after the ARM announcement Monday, saying that SoftBank is effectively "net debt zero" because of the value of stakes it holds in other companies.
Industry Leader
The Japanese company is offering 1,700 pence in cash per share or a 43 percent premium to Friday's close for ARM, a mobile industry leader that gets royalties every time clients such as Apple Inc., Samsung Electronics Co. or Qualcomm Inc. adopt its semiconductor designs.
SoftBank is using about 2.3 trillion yen of cash on hand, and a 1 trillion yen loan from Mizuho Financial Group Inc. to purchase ARM, according to a statement from the company. The company will refinance all or part of the Mizuho loan through long-term financing.
Rating Outlook
Japan Credit Rating Agency Ltd., which has an A- rating on SoftBank, put the company's rating under review "with negative direction." SoftBank sold 2.89 trillion yen of bonds at home since the start of the 2013, the most by any single issuer, according to data compiled by Bloomberg.
Mana Nakazora, the chief credit analyst in Tokyo at BNP Paribas SA, who has long urged investors to buy SoftBank's debt because of its higher spreads, said she isn't changing that view, though investors need to be careful of the timing of purchases because ratings companies may change their debt scores. There is no escaping that the deal is negative for the company's creditworthiness, even if SoftBank is primarily using cash for the purchase, she said.
"The problem with ARM is really whether it can generate the expected growth," said Nakazora. "They are paying a 43 percent premium, so if we don't get that growth it will have been an expensive buy."
The ARM purchase is larger than SoftBank $22 billion acquisition in 2013 of U.S.'s wireless carrier Sprint Corp., which is struggling to to compete with larger rivals such as AT&T Inc. and Verizon Communications Inc. With about $33 billion in debt, and still loss-making, Sprint has slashed network spending to the lowest level since 2010 and is putting up phones, equipment and airwaves as collateral in loan deals brokered by SoftBank, which controls 83 percent of the company.
Tadashi Matsukawa, the Tokyo-based head of fixed-income investment at PineBridge Investments Japan, said the ARM acquisition is somewhat negative for SoftBank's finances. "By rights, they ought to sell Sprint before moving into another business," he said.  
Before it's here, it's on the Bloomberg Terminal.
LEARN MORE