Morgan Stanley Says Year of the Bull Will Push U.S. Yield to 1%
By and
Hornbach is more bullish than any of 61 economists surveyed

Yield will fall to 1% in first quarter of 2017: Morgan Stanley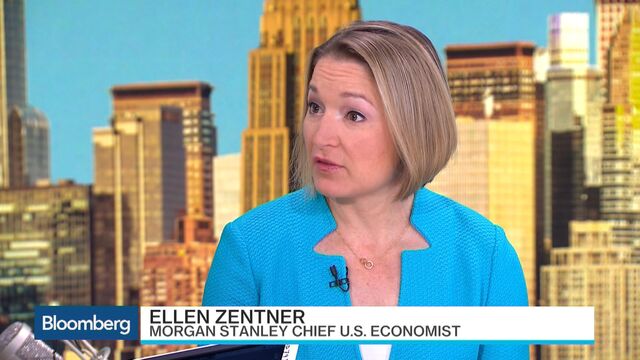 Morgan Stanley's Matthew Hornbach called this year's Treasury market rally. Now he's revising his forecasts and is more bullish than just about anyone else.
QuickTake Watching for Bubbles
Ten-year U.S. yields will fall more than 50 basis points, or 0.5 percentage point, to 1 percent in the first quarter of 2017, according to Hornbach, the firm's head of global interest-rate strategy in New York. None of the 61 economists surveyed by Bloomberg are predicting such a rally. The lowest forecast in the group is for 1.2 percent.
"The year of the bull for rates markets is set to continue with support from politics, productivity and policy," according to a Morgan Stanley report Hornbach sent by e-mail Monday. "We expect growth to come in increasingly below consensus over the coming 12 months."

With yields close to record lows, investors are watching both U.S. economic signals and foreign inflows to gauge whether to add to their holdings. Data from the Commerce Department released Tuesday showed new-home construction in the U.S. rose more than forecast in June, though residential starts in May were lower than previously estimated. Investors from outside the U.S. have been snapping up Treasuries as alternatives to negative yields in Japan and Europe, creating the risk that demand from those buyers won't be enough to keep yields down if the economy picks up.
The benchmark U.S. 10-year note yield declined two basis points to 1.56 percent as of 9:51 a.m. in New York, according to Bloomberg Bond Trader data. The 1.625 percent security due in May 2026 rose 5/32, or $1.56 per $1,000 face amount, to 100 18/32.
The yield fell for the first time in four sessions. Treasuries weakened last week by the most in a year.

Morgan Stanley, one of the 23 primary dealers that trade directly with the Federal Reserve, said March 13 that the global backdrop for fixed income was so supportive that 2016 was shaping up as the year of the bull for bonds. The Bloomberg U.S. Treasury Bond Index has risen 3 percent since then, for a 5 percent gain this year. Ten-year yields set an all-time low of 1.32 percent on July 6.
This month, Morgan Stanley said it was turning neutral on fixed income as yields slid.
Wall Street investors and strategists have scrambled to adjust their forecasts for U.S. yields after last month's surprise U.K. vote to leave the European Union spurred a global bond rally and caused traders to pare bets on the pace of Fed interest-rate hikes. Among those who've joined Hornbach in the camp of 1 percent on the 10-year note: Guggenheim Partners and Northern Trust Corp.
"Our view is that the 10-year is going to be closer to 1 percent than 2 percent in a year's time," Katie Nixon, chief investment officer of wealth management at Northern Trust, said in an interview on Bloomberg Television. For the Fed, "we're looking at least a year out for the first rate hike, if then. The situation is just much too fragile right now."
For an article about the Japanification of U.S. Treasuries, click here.
The risk to Morgan Stanley's outlook is the U.S. economy growing at a faster pace, bolstering the Fed's case to raise rates. 
Ian Shepherdson, chief economist at Pantheon Macroeconomics Ltd. in Newcastle, U.K., said the U.S. could see 3 percent annual growth in the final two quarters of 2016. It hasn't reached that level on a year-over-year basis since 2010, Bureau of Economic Analysis data show.
Watch Next: What's Driving U.S. Yield Lower?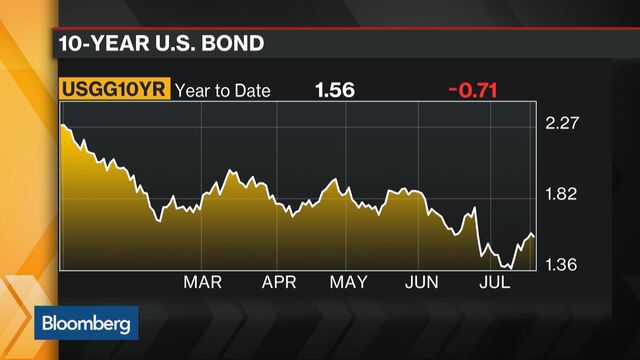 "We're losing that drag from falling cap-ex in the oil business, we're gaining a bit from the consumer being stronger, housing looks a bit stronger," Shepherdson said in an interview on Bloomberg Television. "Putting it all together, I'm feeling more cheerful about growth than I have been in a while."
Traders see about a 42 percent chance of a Fed rate increase by the close of 2016, futures contracts indicate.
Economic Gains
Some Japanese investors are just as bullish as Morgan Stanley, saying a plunge in yields below zero in Tokyo foreshadows record-breaking gains for U.S. Treasuries. Mitsubishi UFJ Kokusai Asset Management said U.S. 10-year yields will drop to 1 percent as soon as this month.
For Hornbach at Morgan Stanley, the Fed is viewed as firmly on hold.
"We see 10-year yields ending 2016 at 1.25 percent on their way to reaching a historical low," Hornbach said. "We expect the 'year of the bull' to continue for Treasuries as investors place higher probabilities on a rate cut followed by QE in 2017."
Before it's here, it's on the Bloomberg Terminal.
LEARN MORE