Millennials Will Vote to Shake Up Wall Street. Right?
Guess again. Young people care most about the economy and terror, just like their parents, a Harvard survey finds.
By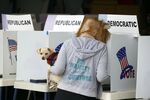 Most of us realize we're becoming our parents in middle age. It looks as if millennials are getting a head start in the voting booth.