Melania's Speech Is Latest Plagiarism Snafu for Trump Campaign
An op-ed by Trump lifted sections from a former rival. Trump Institute borrowed word-for-word from a real estate publication.
By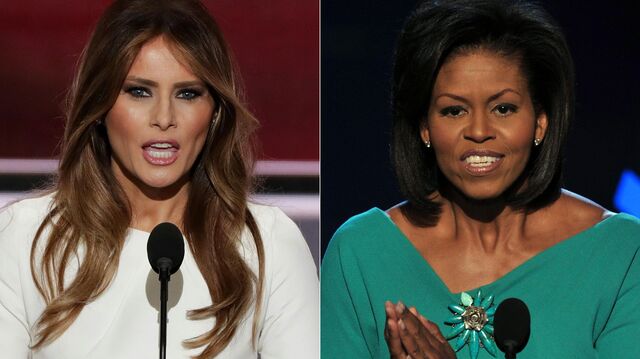 Melania Trump's speech Monday at the Republican convention caused a firestorm for its striking similarities to Michelle Obama's address to the Democratic convention in 2008. But it's not the first time that the Trump campaign has dealt with accusations of plagiarism.
In a June 29 article, the New York Times reported that Trump Institute -- a seminar business to which Trump licensed his name and brand, but did not operate -- had apparently plagiarized from a 1995 real estate manual set called "Real Estate Mastery System."
The Times reported that at least 20 pages in the Trump Institute's book were lifted word-for-word or partially from the "Real Estate Mastery System," including large sections positing hypothetical real estate transactions. Trump's lawyer told the paper that Trump was "obviously" unaware of the plagiarism. 
In March, the conservative news website Daily Caller revealed that Trump had seemingly plagiarized large chunks of an opinion piece about U.S. territories from Ben Carson, his former Republican primary rival.
Among other passages, most of the opening paragraph of March 9 piece in the Pacific Daily News published under Trump's byline was identical to Feb. 26 piece in Marianas Variety under Carson's name. (Carson, who by then had dropped out and endorsed Trump, let Trump off the hook by saying the apparent plagiarism didn't bother him.)
Plagiarism Response
But neither of the previous instances were as high-profile as the potential first lady's prime-time address on Monday evening recounting her life story and introducing her husband to the Republican convention. Trump campaign chairman Paul Manafort defended Melania's speech Tuesday, saying she touched on "themes that are personal to her," and that "obviously Michelle Obama feels a lot of similar sentiments."
Trump's surrogates also sought to defend the potential first lady. New Jersey Governor Chris Christie said on the Today show that "93 percent of the speech is completely different than Michelle Obama's speech" and the rest had "some common thoughts." According to Politico, Carson said that if "Melania's speech is similar to Michelle Obama's speech, that should make us all very happy because we should be saying, whether we're Democrats or Republicans, we share the same values."
The campaign was so eager to deflect blame for the controversy that Manafort pointed a finger at the presumptive Democratic nominee. "When Hillary Clinton is threatened by a female, the first thing she does is try to destroy the person," Manafort said. Clinton's communications director, Jennifer Palmieri, said it was "not true" that her campaign pushed out the information. The lifted language was first noted on Twitter by Jarrett Hill, a Los Angeles-based journalist and interior designer.
"From a young age," Melania Trump said, "my parents impressed on me the values that you work hard for what you want in life, that your word is your bond and you do what you say." At the 2008 Democratic convention, Michelle Obama said, "Barack and I were raised with so many of the same values: that you work hard for what you want in life; that your word is your bond."
Melania Trump added, "We need to pass those lessons on to the many generations to follow. Because we want our children in this nation to know that the only limit to your achievements is the strength of your dreams and your willingness to work for them." Meanwhile, Michelle Obama in 2008 spoke about setting "out to build lives guided by these values, and to pass them on to the next generation. Because we want our children -- and all children in this nation -- to know that the only limit to the height of your achievements is the reach of your dreams and your willingness to work for them."
Tuesday morning, Republican National Committee Chair Reince Priebus told reporters at a Bloomberg Politics breakfast he would "probably" fire the speechwriter if the person worked for him, but added that he didn't know the circumstances that led to the curiously similar speeches.
'I Could Sue Him'
In November 2011, Trump joked that he could sue President Barack Obama for plagiarizing him, claiming the president followed his lead by scolding China for its currency and trade practices with the U.S.
"It was almost my language. I could sue him. I could sue him for plagiarism," Trump told Fox & Friends at the time.
Ultimately, however, Trump said he's just happy that Obama spoke up against China.
"I'm happy," the real estate developer said. "He could plagiarize all he wants."
-- With assistance from Michael C. Bender.
Before it's here, it's on the Bloomberg Terminal.
LEARN MORE