May Says U.K. Sticking to Migration Target as Rudd Raises Doubts
by and
Home secretary refuses to set desired number for immigrants

Johnson backs Rudd as May's office says policy is unchanged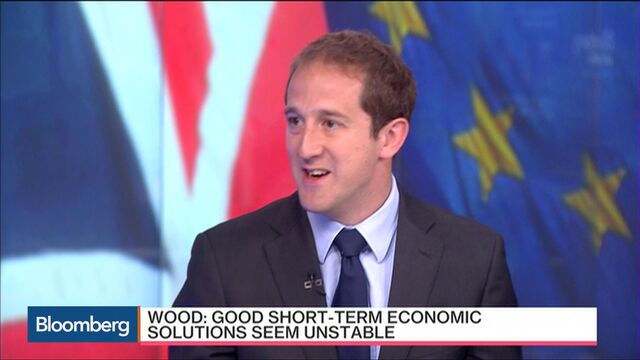 Prime Minister Theresa May's spokeswoman said the U.K. is sticking with its target of lowering annual net immigration to the "tens of thousands" after Home Secretary Amber Rudd appeared to cast doubt on the objective.
The failure to get close to that target was one of the factors that cost May's predecessor, David Cameron, his job, as frustrated voters responded by rejecting membership of the European Union. Speaking to the BBC on Tuesday, Rudd, whose department is responsible for immigration, seemed to soften the government's approach.
"What the prime minister has said is that we must bring migration down to sustainable levels, so that's what is going to be my aim at the moment," Rudd said. Asked if that means there's no longer a firm target, she refused to give one. "I'm going to stick to my comment, which is about bringing it down to sustainable levels. That has to be the most important thing for the country."
Foreign Secretary Boris Johnson immediately offered Rudd support. "The home secretary is entirely right to be careful about numbers," he said at a news conference in London. "One doesn't want to be in a situation where you are disappointing people."
But May's spokeswoman, Helen Bower, denied there'd been a change. "The prime minister does see sustainable levels as down to the tens of thousands, but we should recognize the work that's needed," she told reporters. "That's the goal. It's not just going to be about migration from the EU to the U.K., we also have to deal with immigration from elsewhere."
Before it's here, it's on the Bloomberg Terminal.
LEARN MORE