May, Merkel Face Brexit Red Lines on U.K. Premier's Berlin Debut
by , , and
British, German leaders positioning themselves after U.K. vote

Merkel said to seek general discussions, no detailed timetable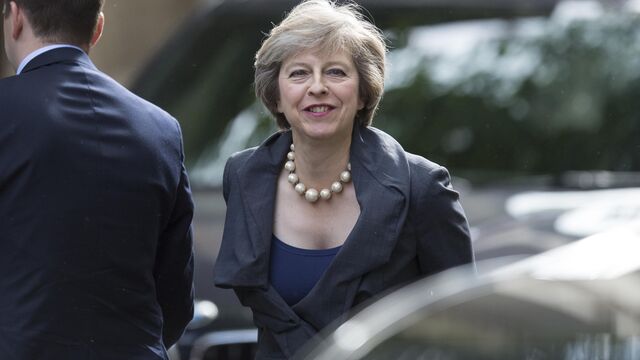 Theresa May's first meeting with Angela Merkel in Berlin will involve more pleasantries than hard bargaining.
A week after taking office as U.K. prime minister, May, 59, will be keen to size up the woman who will be one of her main interlocutors as she navigates Britain's exit from the European Union. The German chancellor, in office for almost 11 years, insists that while May needs some time to formulate how she wants to proceed, no concrete negotiations will take place until the U.K. triggers the EU's exit clause.

Bridging that divide between expectation and what's politically possible will prove crucial for May's stated objective of delivering on last month's Brexit vote. In choosing Berlin for her first trip outside the U.K. as leader, the British premier has shown she recognizes the importance of building a working relationship with Europe's dominant political figure.
"Merkel will want to project a signal of continuity," Marcel Fratzscher, head of the Berlin-based DIW economic institute, said in an interview. "But the red lines are clear."
---
Want more? Sign up to receive the Brexit Bulletin, a daily update on Britain and the EU.
---
Merkel, 62, welcomed the prime minister with full military honors at the Federal Chancellery in the German capital on Wednesday and will then host a working dinner. A joint news conference is scheduled for about 6:15 p.m. in Berlin.
Presidency Relinquished
The U.K.'s disengagement from Europe was on show even before the prime minister's arrival, as May announced that Britain will relinquish the six-month rotating presidency of the EU it had been due to take up in the second half of 2017.
Appearing at prime minister's question time in the House of Commons for the first time on Wednesday, May told lawmakers that her government will set out its EU negotiating position "in the coming weeks and months."
The U.K. must "negotiate the right deal and the best deal for trade in goods and services" with the EU, she said, though ministers will "listen to what people have said about the need for controls on free movement" of labor.
May and Merkel, both pastors' daughters, find themselves at the center of economic and political turmoil not of their making that prompted a plunge in the pound and sent shock waves across Europe. Merkel wanted Britain to stay in the EU and has spoken of a "break" in the European project as a result of the June 23 referendum. While May also campaigned to remain, as prime minister she vows that "Brexit means Brexit" and has assembled a team to negotiate the breakup.
Sounding Out

Signals of cooperation will probably be the main outcome of the meeting, which is largely about sounding each other out, according to two German government officials who asked not to be identified because the talks are private.
Merkel plans to raise the risks to the U.K. and the remaining 27 EU countries from the Brexit decision and push for starting exit talks as soon as possible, according to one of the officials. At the same time, the chancellor will seek to keep the discussion general and won't expect a detailed Brexit timetable, said the other.
German Surplus
At stake for the U.K. is continued unfettered access to the European Union's single market of 500 million consumers. Germany for its part exported cars, machinery and other goods and services to the U.K. worth $48 billion more than it imported last year.

May has ruled out triggering the Article 50 exit clause this year and indicated last week that she may take her time. She pledged to move forward only after establishing a united approach for all of Britain, including Scotland, where voters supported staying in the EU.
Central to the exit negotiations will be the U.K.'s access to the single market, the backbone of the bloc's economic system. While Britain would benefit from free flow of goods and services across the English Channel, access is tied to a commitment to free movement -- anathema to Brexit supporters who campaigned on halting immigration.
Wiggle Room
"There's no wiggle room," said Simon Hix, professor of political science at the London School of Economics, citing resistance to Britain's demands in Germany and Brussels. "Those lines will be drawn."
Bill Cash, a veteran Euroskeptic and Conservative lawmaker who chairs the House of Commons European Scrutiny Committee, has long argued that Germany has become increasingly dominant in Europe, both economically and through its control of EU institutions and policy. For him, the single market is "German oriented."
"They need us: BMW and those other companies need to trade with us because of the vast amount of purchases that we make," he said in an interview. "Straight talking with Germany is paramount."
Talking 'Frankly'
May, who will travel to Paris on Thursday for talks with President Francois Hollande, aims to focus on the U.K.'s economic and trading relationships with Germany and with France.
"I do not underestimate the challenge of negotiating our exit from the European Union and I firmly believe that being able to talk frankly and openly about the issues we face will be an important part of a successful negotiation," May said in a statement e-mailed by her office.
Merkel and May spoke by phone hours after she took office on July 13 while the chancellor was on a trip to Kyrgyzstan. Merkel said in an interview earlier that week that she hadn't met May, though had been briefed on the new premier by her interior minister, Thomas de Maiziere, May's counterpart in the German government in her previous post as home secretary.
Watch Next: May in Berlin Could Bring Its Risks, Warns Darbyshire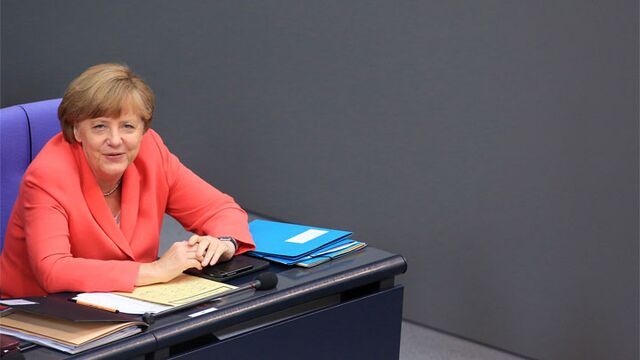 "I look forward to getting to know her and to get to know with which expectations Britain will go into the exit talks," Merkel told broadcaster Sat.1.
Before it's here, it's on the Bloomberg Terminal.
LEARN MORE