Source: Jurassic World's official teaser trailer, © Universal Pictures/YouTube via Bloomberg
Mattel Nabs Universal's 'Jurassic Park' Toy License From Hasbro
by
Company had previously lost 'Frozen' franchise to its rival

'Jurassic' toys generated about $100 million last year
Mattel Inc. suffered a blow when it lost the "Frozen" toy license to Hasbro Inc. Now the company has turned the tables on its rival by nabbing the rights to the rebooted "Jurassic Park" series.
Starting next July, Mattel will take over the toy line for the dinosaur franchise, which is owned by Comcast Corp., according to a statement on Tuesday. Terms of the deal weren't disclosed, but "Jurassic" toys generated about $100 million in sales last year for Hasbro.

Entertainment licenses -- especially ones aimed at boys -- have become increasingly important in the toy industry, and Hasbro had secured many of the biggest. It owns the rights to Walt Disney Co.'s "Star Wars" and the Marvel characters. But Mattel, the larger of the two rivals, has been fighting back. It has a deal with Time Warner Inc.'s DC Comics and is developing toys around a growing roster of characters. That includes this year's "Batman v Superman: Dawn of Justice."
"The appetite for the franchise globally is stronger than ever," Vince Klaseus, president of Comcast's NBCUniversal brand development, said in the statement. "Mattel's global support, creativity and category approach to expand our franchise makes them the best choice to partner with for this brand."
Upcoming Sequel
"Jurassic World" -- the latest installment in the series and the first in more than a decade -- grossed $1.67 billion worldwide in 2015 for Universal Pictures and theater owners. A fifth movie is scheduled for 2018, when Mattel's first toys are expected to hit shelves.
The "Jurassic Park" deal could help fill the hole left by Mattel's loss of both the "Frozen" and Disney Princess licenses to Hasbro. In June, El Segundo, California-based Mattel also announced a deal to license the "Fast & Furious" film franchise from Universal and release a line of vehicles next year.
Hasbro, meanwhile, reported slowing sales growth for boys' products on Monday, raising concern for investors. Chief Executive Officer Brian Goldner said about 45 minutes into an earnings conference call that its licensing deal for "Jurassic Park" was coming to an end. Its current line of toys in the prehistoric franchise declined about 50 percent this year because there isn't a movie hitting theaters this year to spur interest.
Watch Next: The Multi-Million Dollar Princess Toy War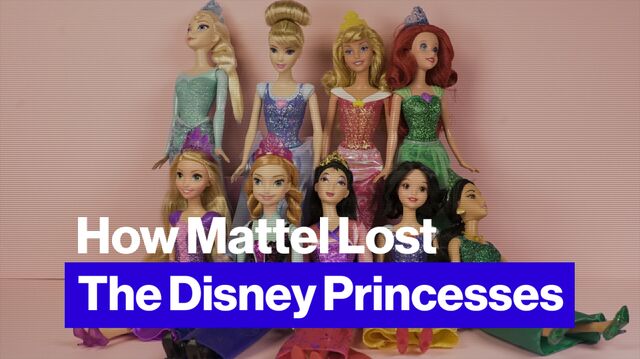 Before it's here, it's on the Bloomberg Terminal.
LEARN MORE